Fredericton's 5th Slow Roll! A great way to discover the city, taste great refreshments, eat good food, make friends and bowl. Let's roll!
About this event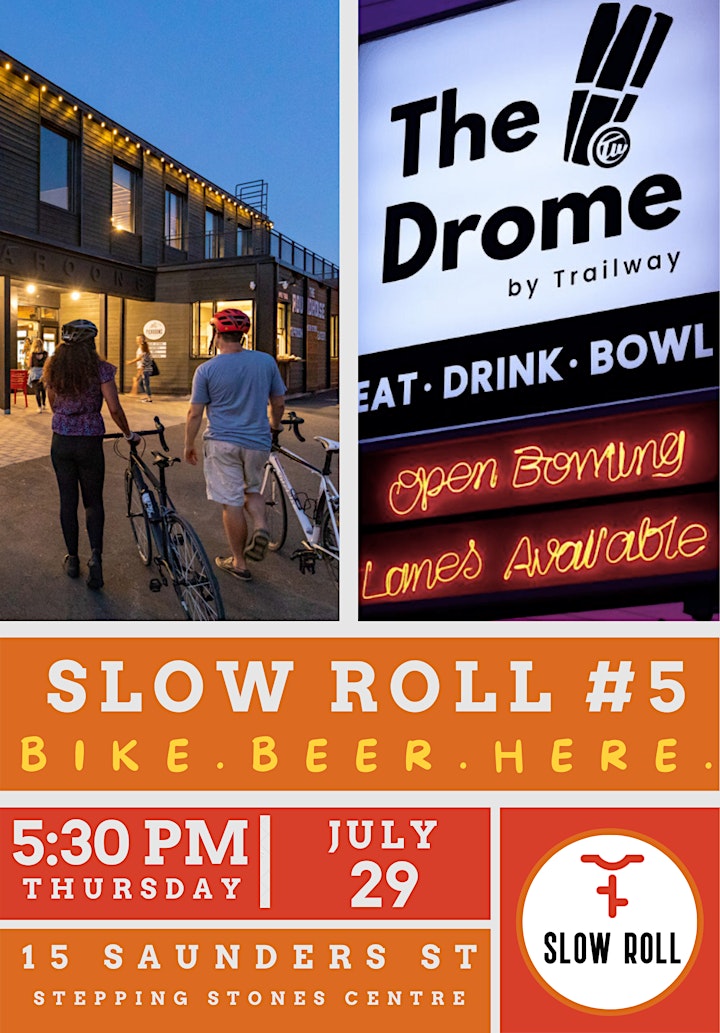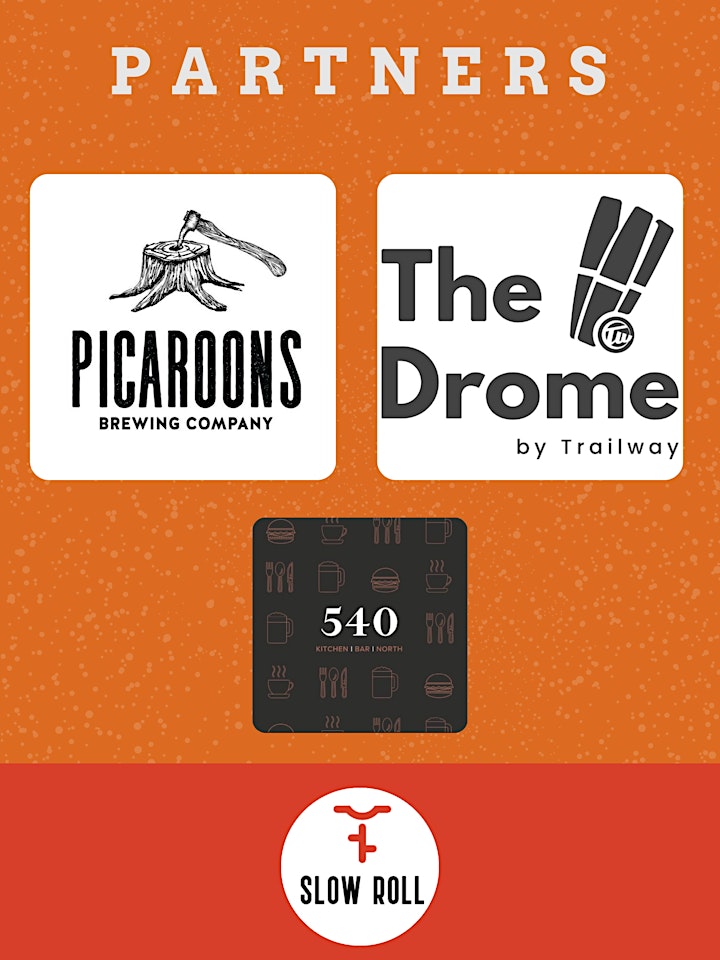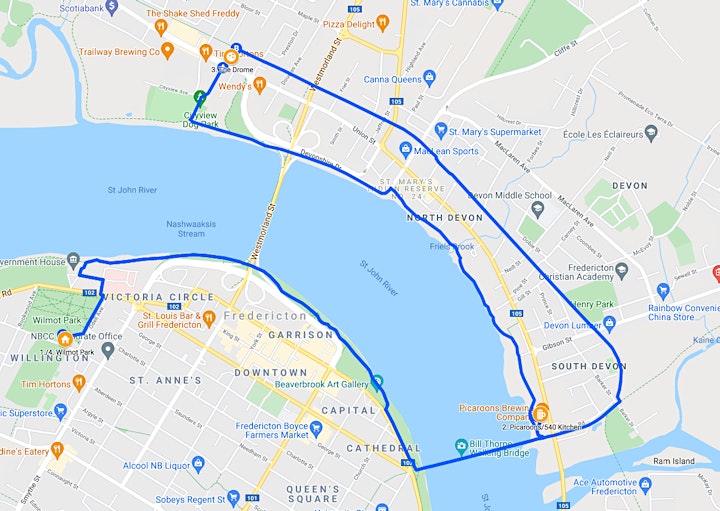 OUTLINE OF SLOW ROLL #5 - TAPROOM EDITION
* Slow Roll tickets are Free! However, every participant must pay for the cost of the food, drinks, and activity they purchase at each of the establishments.
ESTIMATE OF COST BREAKDOWN FOR SLOW ROLL #5 STOPS
PICAROONS ROUNDHOUSE (DRINKS+SNACKS): $5-$20
540 NORTH (FOOD): $8 - $20
THE DROME (BOWLING): $12-$20
* If you do not have a bicycle and still want to participate, we have you covered. Please register for the event and select the General Admission + Bicycle ticket option. We have 10 bicycles available. First come, first served!
* All participants must be ready to show identification to prove your age if requested by any of the taprooms. Please bring valid ID.
*COVID 19: You must bring your own masks and hand sanitizer for the event. All establishments will require a mask at some point in order to take part in the activity.
* We encourage all participants to wear helmets.
*We also have a traffic controller to ensure safe crossings.
* Please bring the appropriate equipment/clothing to bicycle at night.
* If you have a portable bluetooth speaker, please bring it so we can listen to some tunes during the Slow Roll.
*Please ensure to provide your shoe size in the registration: We will relay this information to The Drome in order to streamline the time it will take to start bowling .
Over the course of the summer we will be doing several Taproom Edition Slow Rolls. By the end of the summer, if you take part in all of them, you will get some cool swag and a chance to win tickets to the 2021 Fredericton Craft Beer Festival! Check out www.fredtaptrail.ca for more info on the Taproom Trail.
ITINERARY SUNDAY JULY 29TH 2021
MAP ITINERARY: bit.ly/3y5yPsw
1. 5:30M - REGISTRATION (STEPPING STONES SENIOR CENTRE)
Meet in the parking lot of the Stepping Stones Senior Centre (15 Saunders St).
Please be on time and ready to go as we do not want to delay our arrival times.
In order to ensure a smooth Slow Roll. The following must be completed before we embark on our journey:
- All participants must fill out:
1. Waiver for the Slow Roll.
2. COVID-19 Contact Tracing Form.
3. Ensure we have your shoe size for bowling.
- Assist those who requested a bicycle and helmet.
- Receive safety instructions for the Slow Roll.
- Itinerary explained by the organizers
2: 6:00 PM - LEAVE WILMOT PARK
We leave at 6 pm sharp. Please gather on the grass by the parking lot. Once we are ready, we head to Picaroons as a group with our bicycles.
3: 6:15 PM - ARRIVE AT PICAROONS ROUNDHOUSE/540 NORTH
Order food at 540 NORTH and drinks at PICAROONS ROUNDHOUSE. Enjoy!
4: 7:45 PM - LEAVE PICAROONS ROUNDHOUSE
Bike to The Drome by Trailway.
5: 8:00 PM - ARRIVE AT THE DROME BY TRAILWAY
Enjoy beer and bowling.
DEALS:
2FOR1 LANES: This means each person will pay around $10 for 2 hours of bowling. Exact amount depends on number of participants.
50% OFF SHOE RENTAL(S): $1.58 per set of shoes
LEAGUE PRICING FOR BEER: $5.18 Candlepin Kolsch
6: 10:00 PM - LEAVE THE DROME BY TRAILWAY
Head over to Wilmot Park.
7: 10:30 PM - ARRIVE AT WILMOT PARK
Slow Roll #5 is complete! Congratulations! Looking forward to seeing you on the next one!
*Please keep in mind that if there is inclement weather in the forecast, we will reschedule.
*If we go to level orange we will reschedule to when we are in yellow phase.
A Slow Roll is a casual group bicycle ride around the community.
Slow Roll Fredericton has the following mission:
To encourage active transportation whether it be by bicycle, escooter, ebike, skateboard, or other means.
Provide an opportunity for residents to discover the city in all it's beauty.
Support local businesses by becoming patrons of their establishments.
Support local organizations via increased visibility and awareness through visits.
FACEBOOK:
www.facebook.com/slowrollfredericton
We will have a limit of 50 people for the event in order to follow COVID restrictions.
Please ensure you get a ticket so we can keep track of participations numbers.
Make sure to bring pocket money for your food and beer at Picaroons Roundhouse, 540 North, and The Drome by Trailway.
Please also ensure to bring money to participate in the bowling. See below for details of the costs associated with this activity.
Please bring a mask and a hand sanitizer for the following activities:
- Signing of Waiver and Safety Instructions Presentation.
- Picaroons Roundhouse
- 540 North
- Bowling
We would like to thank all our partners for their support to make this event possible.
If you have any questions, please do not hesitate to reach out!