SMA Interactive Workshop Series - Seabirds (January 29, 2021)
CPAWS NL is hosting a series of online workshops to aid in the creation of a digital, interactive map for Newfoundland and Labrador.
About this Event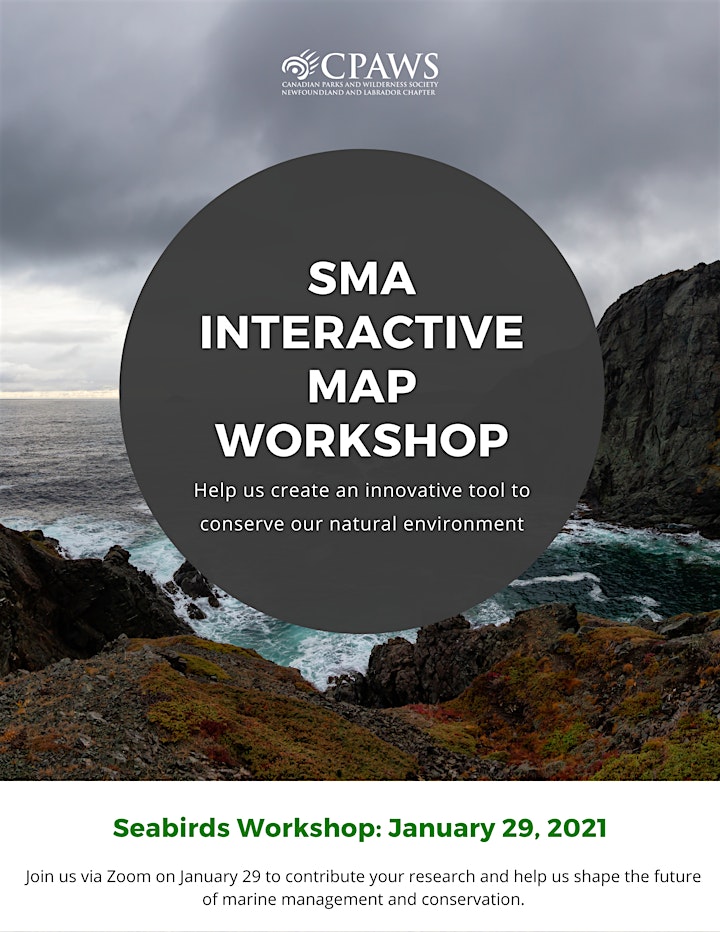 CPAWS NL is hosting a series of online workshops to aid in the creation of a digital, interactive map for Newfoundland and Labrador, and would like to invite you to participate. We believe that your work in seabird research and conservation is important, and would be honoured if you join us on January 29, 2021 at 1:00pm to give your input.
___________________________
In 2018, CPAWS-NL released the 2nd edition of the Special Marine Areas Guide, which was developed with participation and partnership from a large group of stakeholders. The Guide highlights 147 coastal and marine areas of Newfoundland and Labrador deemed important for ecological, socioeconomic and cultural reasons. CPAWS-NL is in the process of transforming this Guide into an Interactive Online Map, which will be made available online Winter 2023. This map will incorporate a range of layers depicting coastal and marine uses, including industry, tourism, species habitats, educational text, graphics and videos to showcase the "larger picture" of Newfoundland and Labrador's coastal and marine environment.  The completion of this map would allow for it to be used as an educational resource and a decision making tool for marine planning activities.
In an effort to continue the collaboration of the Special Marine Areas Guide, CPAWS-NL will be holding a series of themed workshops to engage and collaborate with stakeholders. Due to COVID-19, these workshops will be held virtually to allow as much collaboration as possible. Workshops will be divided by subject matter, and will help to:
Identify and share existing data for coastal and ocean areas in Newfoundland and Labrador;
Map new data;
Identify and share educational resources (videos, pictures, etc.);
Identify information gaps;
Get feedback from all stakeholders in the creation of an online map that is useful for you.
Ensure all stakeholders have the chance to contribute their data and understand fully how it will be used.
You have been identified as a significant stakeholder in seabird research and conservation, and we would appreciate it if you could join us for our seabirds workshop. This workshop will be held on January 29, 2021 between 1:00pm - 4:00pm. If you feel you would like to participate in other subjects, please let us know and we will send you more information.
We hope these workshops create a networking opportunity for your organization and we look forward to working together to create this Interactive Map. As the main focus of these workshops is to share resources, we ask that you come prepared to speak on behalf of your organization's work and submit any data/digital media you are hoping to contribute before the workshop. Each organization will have 5-10 minutes to introduce themselves, with an optional PowerPoint presentation. The workshop will also feature an interactive mapping application where you can collaborate with other stakeholders to visualize unrecorded data by drawing polygons, lines, and points on a map.
We wish that all workshop participants attend ready to participate in discussions and share data. You can submit any data (.xls, .shp, .geotiff, etc.) or information (photos, videos, text) to our online submission form here. Note that any data that you share will be made publicly available. We can discuss alternative data sharing during the workshops for data that may not be acceptable for public viewing, for example scaling down specific data points. Participants will be asked to use video and audio, and sessions will be recorded.
Please see the attached preliminary agenda for the workshop, and RSVP to the online workshop. If you are unable to attend and wish for another colleague to attend, please forward their contact information to us. If you feel like you are better suited to another workshop theme, please contact us for more details.
We look forward to your participation!