Description
A day to inspire you and nourish your business.
Amazing things happen when entrepreneurs get together, and that's what Small Business Week is all about. The crown jewel of the entire week is the Small Business Calgary Expo.
Featuring a dazzling exhibition of local businesses, two phenomenal keynote speakers, and six interactive workshops, this event is Alberta's biggest B2B expo.
The Expo

The Expo is where you can explore exhibitor booths and take in world-class keynotes.
It will feature 100 exhibitors and 1,500 attendees. That's a huge networking opportunity!
There will be two keynotes this year: Kristen Wood, Founder & CEO of THE TEN SPOT and Justine Barber, Co-founder of Poppy Barley.
You'll have access to an exclusive Networking App to help you connect with other attendees and grow your network. Details on how to register for it will be released in the fall.
New this year: A Digital Tools Stage featuring 15-minute rapid-fire sessions on new tools you can use to transform and grow your business.

Kristen Wood is the CEO & Creator of THE TEN SPOT® Beauty Bars, Canada's fastest growing beauty services company with locations across Canada. Starting with a single store in Toronto's then up-and-coming Queen West neighbourhood, THE TEN SPOT® has become one of Canada's beloved brands, channeling Kristen's edgy, honest humour and commitment to excellence.
Watch this video on her journey from small business owner to franchise CEO to get a sense of what you're in for.


Justine Barber is the Co-founder of Poppy Barley, a local Alberta shoe company dedicated to social responsibility and designing for kick-ass men and women who always show up but don't have time for sore feet.
Their unique line of footwear and accessories is designed in Edmonton, and manufactured in León, Mexico at leather shoe factories that prioritize people while offering flexibility in sizing and inventory through small-batch production. In the pursuit of ethical fashion and accessible luxury, Poppy Barley became the first company in North America to offer handcrafted footwear online.
Watch this video to learn about Poppy Barley's story.

The Academy is the fun name we've given to the in-depth learning sessions happening during the Expo.
To access these workshops, you must purchase an Expo PLUS+ ticket.
There will be 6 learning sessions happening throughout the day you can choose from, plus you get lunch.
These sessions are all about giving you tangible takeaways from subject-matter experts you can action in your business the very next day.
Session topics include digital marketing, PR, business valuation, raising capital, leadership, and building your digital design toolbox.
View the Academy session schedule.
Ticket comparison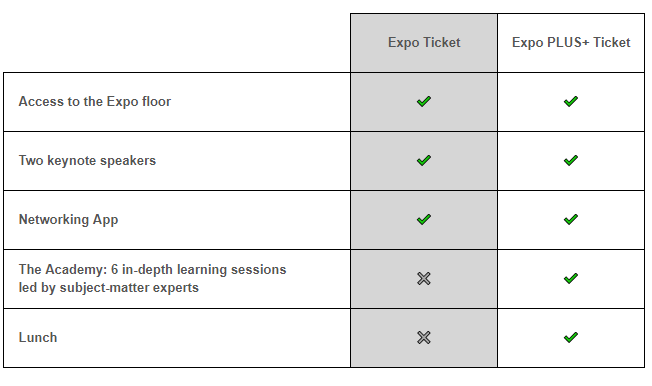 What about the Awards Gala?
This year the Small Business Calgary Awards Gala is happening separately from the Expo. It will be held on Friday, October 19, 2018 at the Grey Eagle Event Centre.
Tickets for this event must be purchased separately from the Expo.