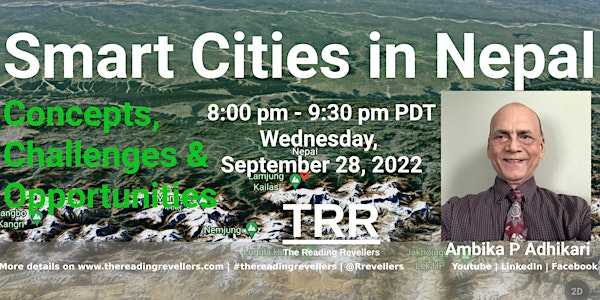 Smart Cities in Nepal: Concepts, Challenges and Opportunities
Smart Cities in Nepal: Concepts, Challenges and Opportunities
About this event
In this program, we will discuss smart cities in the context of a developing country like Nepal. We invite Dr. Ambika P Adhikari to help us understand the importance of smart cities. We use his recent article entitled "Towards Creating Smart Cities in Nepal" published in the Nepal Journal of Science and Technology as a reference to this discussion.
The theme of this program is "Smart Cities in Nepal: Concepts, Challenges and Opportunities". The key elements comprise of:
- What is the concept of a smart city?
- What does it mean to be sustainable in a smart city?
- What are the opportunities and challenges in countries like Nepal?
Dr. Ambika P. Adhikari is an Urban Planner and International Development Professional based in Phoenix, Arizona, USA.
Welcome to The Reading Revellers Series.