About this Event
Attention all Smart City Innovators!
For Ontario Smart City innovators, join us to build important connections with communities seeking Smart City solutions. This event brings together key decision makers in our municipalities and smart city innovators to address today's most pressing community issues.
Hosted jointly by Communitech and the Community Solutions Network.
The day will start with an introduction to the Community Solutions Network, a program of Future Cities Canada. The Network is a community-centric platform serving every type of Canadian community: big, mid-sized, Indigenous, small and northern. As the program lead, Evergreen is working with OpenNorth and partners to provide knowledge, expertise, experience and the guidance communities need to build internal capacity and navigate the smart cities landscape.
Agenda:
9:00 a.m. - 9:30 a.m. | Doors Open + Networking
9:30 a.m. - 9:50 a.m. | City of Guelph, Karen Gomez, Program Manager, Municipal Innovation Exchange
9:50 a.m. - 10:10 a.m. | Town of Midland, Chris Gooding, IT Technician
10:10 a.m. - 10:30 a.m. | City of London, Christopher Green, Manager II, Economic Partnerships
10:30 a.m. - 10:50 a.m. | City of Barrie, Sonya Favretto, Project Manager, Municipal Innovation Exchange and Rob Emerson, Manager, Digital Transformation
10:50 a.m. - 11:10 a.m. | Region of Waterloo, TBD
11:10 a.m. - 12:30 p.m. | Networking
We've invited 5 municipal partners to present an overview of their municipalities, the challenges they are facing and the types of technologies they are interested in exploring.
Municipalities in attendance are looking to connect with smart cities solution providers in the following areas:
Town of Midland is interested in smart cities solutions that can:
Innovate mobility and address transportation service issues
Leverage smart technologies to combat issues of social isolation amongst seniors
Monitor and address water quality issues in our lakes and rivers
City of Guelph is interested in smart cities solutions that can:
Empower residents or help the City to reduce single-use plastic
Allow the City to repurpose or evolve existing carbon credits
Help paramedics confirm accurate dosage to administer medicine to patients through the means of assistive technology
Region of Waterloo is interested in smart cities solutions that can:
Provide digital access to mental health services for youth
Incentivize physical activity and healthy lifestyles in children and youth
Provide real-time, multimodal trip planning information
Improve waste pickup efficiency by helping citizens to prepare their waste for pickup
Offer an engaging survey solution for youth (e.g. digital, gamified)
City of London is interested in smart cities solutions that can:
Help people struggling with homelessness and health issues in the core area
Ensure people feel safe and secure in our public spaces in the core area
Create a positive environment for businesses to be successful in the core area
Find ways to attract more people to the core area of the City
City of Barrie is interested in smart cities solutions that can:
Measure attendance and benefits of community events to identify ROI, tourism and sponsor development
Create an IT Testbed to govern the policies of cloud based software usage, interactions and responsible data sharing
Leverage technology and community connections to enable 'aging in place'
Questions?
For more information contact Allison McConnell.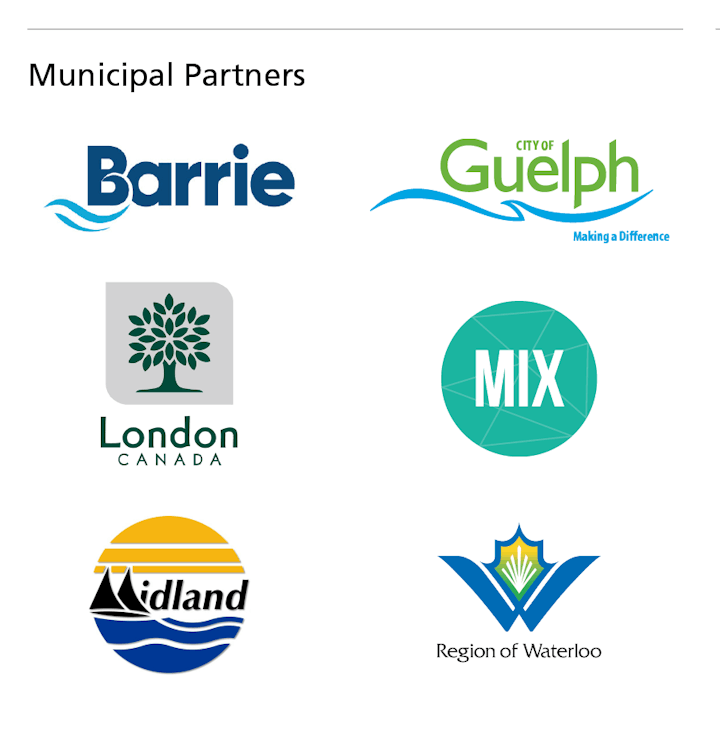 -----------------
Getting to the Communitech Data Hub
The Communitech Data Hub has onsite parking but it is limited (the parking lot is behind the building). For alternative parking lot info, check out this map to find out how to get uptown and where to park. Or, skip the need to park altogether. Use the GRT EasyGo trip planner to find your best route on the ION light rail or bus services, which conveniently make regular, nearby stops.
We have an awesome community. And we like to show it off.
Please be advised that photographs and video may be taken at Communitech programs and events for use on Communitech web, print, and social properties. We won't sell your photo, but we may share it with media and/or partner organizations. By attending this and any Communitech event, you consent to being photographed and/or filmed, and to your image or likeness being used at the discretion of Communitech.
Construction in the Region
As you may know, there is some construction happening in Downtown Kitchener, so you may hit some traffic getting here. Please check the latest updates from the City of Kitchener to help plan your best route.