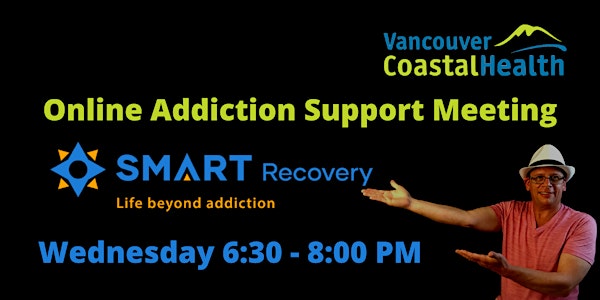 Multiple dates
SMART Recovery Online Addiction Support Meeting
Discover "The Power of Choice" in Your Recovery
By SMART Recovery British Columbia Meetings
Date and time
Wed, Apr 21, 2021 6:30 PM - Wed, May 31, 2023 8:00 PM PDT
About this event
If you want to address any addiction or harmful habit, SMART Recovery can help. Major changes can be overwhelming. SMART's practical tools and social supports are proven effective to support and sustain successful long-term life change.
Harmful habits include substance addictions (to alcohol and other drugs), as well as activity addictions (to behaviours like sex, relationships, spending, gambling, eating, exercise, and self-injury). No matter your harmful habit, SMART can help you change it.
SMART is not just any mutual-support program. Our science-based approach emphasizes self-empowerment and self-reliance. There's no lifetime commitment; you decide when the time is right to move on. You choose how to personalize your own plan for successful change. SMART can be used both as a stand-alone program or in combination with other recovery paths. SMART Recovery recognizes the only one who can become truly expert on your recovery is you.
Many local SMART Recovery meetings have been temporarily moved online due to COVID-19. You may find online Zoom meeting details in place of local meeting information in your search results.
Monday Meeting:
https://meetings.smartrecovery.org/meetings/2629/
Wednesday Meeting:
https://meetings.smartrecovery.org/meetings/2504/
Saturday Meeting:
About the organizer
How can SMART Recovery help me stop alcohol abuse?
SMART Recovery provides you with tools and support that can help you recover from addictions – be it alcohol abuse, or other drugs or negative behaviours. SMART Recovery's 4-Point Program® is designed to help you overcome your problems with abusing alcohol and help you to quit drinking:
1. Building & Maintaining Motivation – Helps you identify and keep up with your reasons to quit. Why do you want to stop drinking – what will keep you focused on that goal?
2. Coping with Urges – Dealing with urges and cravings is part of recovery. SMART has tools designed to help our members cope with urges to drink alcohol that can help you maintain abstinence.
3. Managing Thoughts, Feelings and Behaviours – We frequently turn to using drugs to either escape from or avoid addressing problems. SMART Recovery participants learn problem-solving tools to help them manage challenges along the way.
4. Living a Balanced Life– When you abuse alcohol, your life frequently falls out of balance – you may find yourself opting to drink rather than go to work or school. You may find that things you once enjoyed aren't fun anymore. SMART give members skills to help balance both short and long-term goals, pleasures and needs that were once out of balance due to drug abuse.