Sales Have Ended
Registrations are closed
Registration is now closed. If you have any questions please send an email to info@SMARTNetAlliance.ca
Sales Have Ended
Registrations are closed
Registration is now closed. If you have any questions please send an email to info@SMARTNetAlliance.ca
Description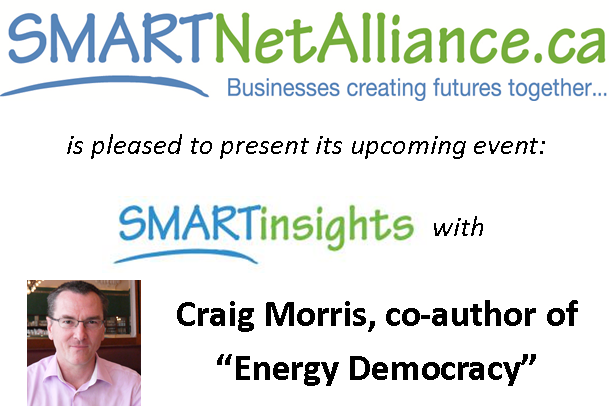 Energy democracy: how a grassroots movement became German energy policy - and why that matters!
Join Craig Morris for a discussion of why the benefits of the energy transition will make the world a better place — and why climate campaigners should view lower CO2 emissions as the cobenefit.
The climate and energy debate generally focuses on carbon emissions, labeling other aspects as "co-benefits." But conventional industry is ready to discontinue the energy transition whenever society is. Without a bottom-up push, there will be less innovation and sustained commitment. And a purely technical focus on breakthroughs, overlooks "sufficiency" — changes in behavior and walkable cities are more important than electric vehicles.

About Craig Morris
Craig Morris (@PPchef) is currently a Senior Fellow at the IASS. Coauthored with Arne Jungjohann, his book Energy Democracy is the first history of Germany's energy transition, the Energiewende. He has served as technical editor of IRENA's REmap and of Greenpeace's Energy (R)evolution. In 2008, he cofounded Berlin's PV Magazine; in 2010, Renewables International. In 2012, he became lead author of EnergyTransition.de. In 2014, he won the International Association of Energy Economists' prize for energy journalism.
Date: Thursday, November 3, 2016
Time: 7-9pm
Location: 401 Richmond St. West, Toronto M5V 3A8 (@ Spadina)
Refreshments: You are welcome to grab a coffee or a treat from a neighbouring coffee shop to bring with you. There will be water available.
Transportation options:
Parking: There is a parking lot at 450 Richmond St west of Spadina for $11/day and 3 lots on Adelaide between Spadina and Peter that range from $7.00-$18/day.
Transit: Bloor Subway to Spadina Station, take the 510 street car south to Queen St. or the 501 runs along Queen St to Spadina.
We are grateful to our event supporters for their contributions.