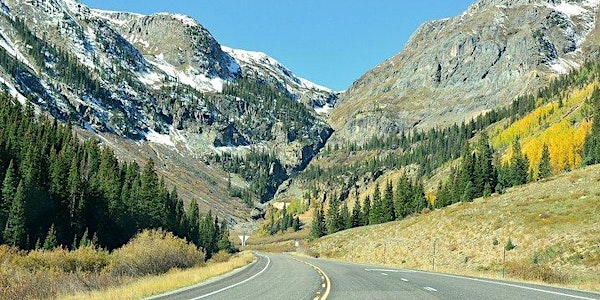 Smartphone Audio Driving Tour between Denver & Vail / Breckenridge
Connect your smartphone up to your vehicle's stereo and listen to a tour guide while you drive! Complete tour any day or time you like.
About this event
Discover one of the most scenic drives in Colorado with the help of a tour guide! Start anywhere along the route between Denver and Vail or Breckenridge. The tour experience is the same in either direction.
Learn about the area's mining history and the legend of Poker Alice. Discover the beauty of the Loveland Pass at your own pace. Hear about the Arapaho Basin, Loveland Pass, Eisenhower Tunnel & other sights. 
With no time constraints, enjoy the freedom to stop anywhere and take your time exploring. Tour guide commentary will play automatically as you drive, using an easy to navigate live GPS map. No data is used during the tour.
This audio guide will keep your group entertained & engaged along the way. Each point of interest also has a fun multiple-choice trivia question about the sights.
Tour Map, Audio Preview & More Information
Points of Interest
National Earthquake Information Center
Genesee Park
Walstrom Quarry
Idaho Springs
Phoenix Gold Mine
Clear Creek County
Arapaho National Forest
Georgetown
Georgetown Loop Railroad
Twin Peaks
Loveland Pass
Eisenhower Tunnel
Dillion Reservoir
White River National Forest
Frisco
Copper Mountain
Vail Pass
Shrine Pass
Walking Mountains
Vail
Poker Alice
Breckenridge
Arapaho Basin
Mount Evans Highway
Keystone Resort
Popular Peeps x 4
Why a Smartphone Audio Tour?
✔️ audio automatically plays when approaching a point of interest
✔️ listen through vehicle's stereo
✔️ GPS map shows your location, route & points of interest
✔️ freedom to take detours and stop anywhere
✔️ professional & personable tour guides
✔️ same tour experience in either direction
***Please note certain trails, lookouts & attractions we recommend may be closed or inaccessible during the off-peak season or due to reasons beyond our control.