Smartphone Video Marketing for Small Business

Friday, 17 November 2017 from 12:30 PM to 2:00 PM (EST)
Event Details
Smartphone Video Marketing for Small Business: How To Grow Your Business By Creating and Sharing Simple Marketing Videos, Using Only Your Smartphone
At This Seminar, We'll Share with You Our 5-Step Process to Creating Marketing Videos That Get Results
We will show you not why you should be doing video marketing for your small business on social media sites like Facebook and Twitter, but how… using only your smartphone. We've made the process unbelievable easy for you.
STEP ONE: First, we dive into marketing and discuss you, after all you are your most important marketing tool. We then cover the art of speaking the same language as your target audience.
STEP TWO: Then we get into scripting. We'll walk you through a simple content creation process and a way to outline your videos, so that you're target audience will be engaged and want to take action at the end of your video. And we also have some great worksheets you can use.
STEP THREE: We'll show you how to use only your smartphone to produce professional looking videos; we'll cover things like getting steady shots, good lighting and quality sound.
STEP FOUR: Next, we show you how to get your video off your smartphone, and onto social media, like Facebook and Twitter, and get your videos seen by more than just your family and friends.
STEP FIVE: And finally, the last step, testing and measuring your videos. We show you how to use insights and analytics to see what is working, and what isn't working, so you can constantly be improving your marketing videos and do more of what is working.
About the Presenters: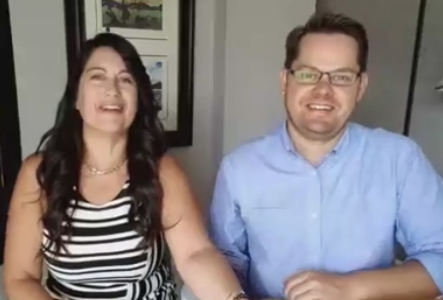 Scott Clevely and Angela Kafadar
After graduating from a film program, Scott launched his film and television career when the scene in Toronto was booming, becoming an assistant director as a member of the Director's Guild of Canada. Scott took every opportunity to learn everything he could about the industry.  In 2002, as Scott started to do more freelance work, he realized how he could use his experience and the power of video could help businesses grow.
Angela's experience in sales and marketing has helped her success in her entrepreneurial goals.  A previous restauranteur, running a number of importing and distribution companies and growing a small idea into a successful trade show display dealer were some of her most notable achievements.
In 2004, Scott and Angela met during a filming event Scott was covering – and since then, together, not only have they been running a successful video production company, producing thousands of videos and helping 100's of companies achieve success in their sales and marketing goals, but they've just celebrated their 10th wedding anniversary.
With ever changing capabilities through social media, now they are sharing their experience as expert video content marketers to help small businesses create their own video marketing videos using the power of their smartphones. 

When & Where

Business Advisory Centre Durham
3000 Garden Street, Suite 200, Suite 200
Suite 200
Whitby, ON L1R 2G6
Canada

Friday, 17 November 2017 from 12:30 PM to 2:00 PM (EST)
Add to my calendar