Uniting to Consciously Create Change
About this event
When we come together in community, collaboration and partnership, collectively we can imagine a gender equal world. A world free of bias, stereotypes, and discrimination. A world that is diverse, equitable, and inclusive. A world where difference is valued and celebrated. Together we can forge women's equality. Collectively we can all #BreakTheBias.
On March 8, London Small Business Centre, Women in Communications and Technology, TechAlliance of Southwestern Ontario, London Economic Development Corporation and the London Chamber of Commerce present Breaking and Building for Everyone. Gather virtually as a community, to share time and create space for change with Avery Francis, HR Specialist, leader in thoughts, words and actions, champion for women and all marginalized communities and Founder and CEO of Bloom. Converge in celebration of all who identify as women, as we talk strength and vulnerability, grit and balance, and unfold the collective experience of what the truth of work means and looks like for women.
Great strides have been made since the inception of International Women's Day in 1909, but the work is just beginning. This day marks a moment to reflect on triumphs, celebrate the power, acknowledge the shortcomings and plan for strategies of change, as we revere women. The IWD 2022 theme, #BreakTheBias, captures what we embrace and work to emulate each and every day in our lives, work and community.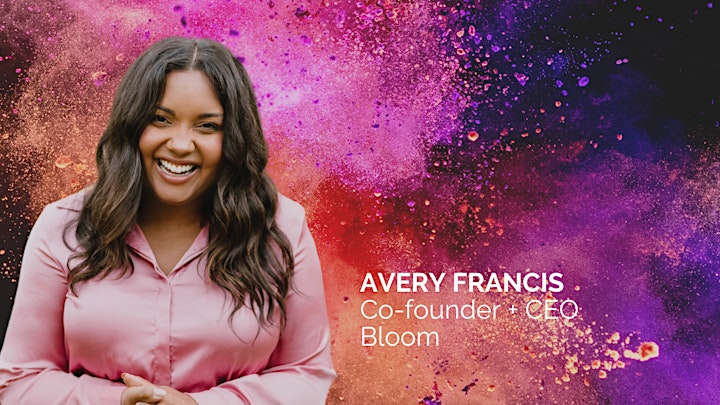 A fan of growth in all its forms, Avery has spent her career helping leaders navigate the challenging world of talent, hiring, and building genuinely inclusive company cultures. An award-winning HR leader and Talent Strategist, a champion of diversity, inclusion, and belonging, Avery is a Canadian Entrepreneur and the Founder and CEO of Bloom, a full-service workplace design consultancy and Bloom Academy, the best-in-class digital program for immersive diversity, equity, and inclusion learning experiences, taught by the team at Bloom with special guest facilitators.