Honouring International Women's Day 2021, we Choose to Challenge, and we Dare to Rise.
About this Event
Collaboration turns unprecedented times into unparalleled opportunities. This International Women's Day, choose community, as we celebrate all women in their collective and unique experiences. Recognizing our strengths, talents and challenges ahead — the time is now to take collective action to eliminate bias and empower women to lead.
Featuring internationally esteemed innovation leader, Claudette McGowan through her talk Dare to Rise, to share how the power we hold can mobilize change when we are bold, courageous and intentional.
In the spirit of prioritizing diversity, addressing equity, committing to inclusion and recognizing that there are barriers still to remove, TechAlliance, Women in Communications and Technology, All Women L.E.A.D., Pillar Nonprofit Network and SWO Angels proudly present Smashing Barriers, an inspiring keynote and robust panel discussion calling women and allies to action.
One of 2018's Hundred Most Powerful Women, named one of the top 50 Leaders in FinTech in Canada, a member of the US Canada innovation partnership, and having shared the stage with the inimitable Michelle Obama, Former First Lady of the United States of America, Claudette McGowan is a global information technology leader, an advocate for diversity and inclusion and a true trailblazer for all women as they strive to make meaningful and powerful change.
Choose to challenge systems and practices that hinder success for women. When we commit to collective action and dare to rise, we show up for each other to listen, learn and change for ourselves, other women and generations to come.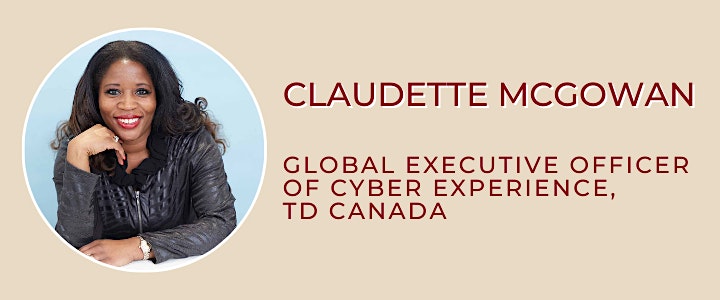 Claudette McGowan | Global Executive Officer of Cyber Experience at TD Canada
Claudette McGowan is a global information technology leader with more than 20 years of success leading digital transformations, optimizing infrastructure and designing new approaches that improve service and security experiences. She has worked in the technology industry for several organizations such as Deloitte, Metropolitan Police Services, North York General Hospital, Bank of Montreal and TD Bank. Claudette began her career at BMO in 2000 and held multiple senior leadership roles including Chief Information Officer, Enterprise Technology Experience and Vice President of Digital Workspace Services. In 2020, she joined TD Bank as Global Executive Officer, Protect Fusion and Cyber Experience.
In her spare time, Claudette writes books for children, builds robots and is the founder of the Black Arts & Innovation Expo. Claudette holds a Bachelor of Arts from Lakehead University, a Master of Business Administration from Athabasca University, Certificates in Artificial Intelligence, IT Management, Project Management and Smart Buildings from Rotman, Ontario Tech University, Schulich School of Business, and Harvard Graduate School of Design respectively.