Location
La Bistrote
1510 Notre-Dame Street West
Montreal, QC H3C 1L2
Canada
Description

Guest Speaker: Fred Harper
Public Speaking? No, thanks!
Please note that the event will be held in English.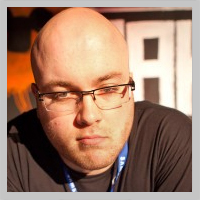 In the IT world for more than 10 years, Frédéric Harper started as a developer working with different technologies focusing on Web, and mobile development. One day, Frédéric got a revelation, and decided to use his social skills to become an Evangelist. He spent a few years showing the Openness of Microsoft talking about Open Source, Web standards, and Interoperability.
Now, as a Senior Technical Evangelist at Mozilla, Fred shares his passion about the Open Web, and helps developers be successful with Firefox OS. Experienced speaker, t-shirt wearer, long-time blogger, passionate hugger, and HTML5 lover, Fred lives in Montréal, and speaks Frenglish. Always conscious about the importance of unicorns and gnomes, you can read about these topics, and other thoughts at outofcomfortzone.net.
You may think that public speaking isn't for you, but you'd be wrong. Do you have a passion? Do you like to share with others? Public speaking will help you spread the love in your industry, and help others find success. But let's be honest: you'll get a lot out of it too. You'll learn from attendees, grow your network, get visibility, and much more in return for your efforts. Let's explore why there are good opportunities for you, how to set and achieve your goals, and where can you start. Who knows, you may have a born public speaker hidden inside of you!


- - - - - - - - - - - - - - - - - - - - - - - - - - - -


Bring your iPad, notebook and smart phone. You are invited to ask away and take notes, join the conversation, meet your peers and learn.
Go check Fred's website www.outofcomfortzone.net. You can also follow Fred on Twitter.
- - - - - - - - - - - - - - - - - - - - - - - - - - - -

The breakfast and the event will be hosted by Dana Elsliger and her team, as usual at La Bistrote. (1510 Rue Notre-Dame Ouest). Great food, great ambiance and lots of smiles! Acces by Metro Lucien Lallier and Metro Guy are walking distance.
50 spaces available. First come, First Served.
- - - - - - - - - - - - - - - - - - - - - - - - - - - -
One of the founders of SMB-Montreal will be acting as co-moderator for the event. Thanks as always to friends Luis London and Andrew Chen, at KAI Design for their help organizing the event.

Contact hello@heelatch.com with any questions.
- - - - - - - - - - - - - - - - - - - - - - - - - - - -