SMBMTL 18 - Social Media Breakfast Montreal

Wednesday, January 22, 2014 from 8:00 AM to 10:00 AM (EST)
Event Details


A conversation with: Mitch Joel  
Please note that the event will be held in English.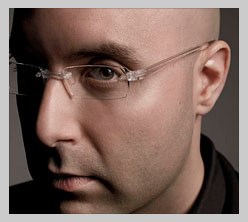 On January 22nd, 2014, the Social Media Breakfast Montreal is lucky and proud to have back Mitch Joel.
Mitch was kind enough to take part in our 2nd ever event back in early 2010, where a longshot email I'd written requesting he consider taking part in a future event was met with a phone call from the man not 30 minutes later where he wholeheartedly agreed to help our fledgling group.
Because of the local support we've received from sought after speakers and industry experts like Mitch, the #SMBMTL is moving into its 5th year and showing no signs of letting up. We are grateful for not only them, but you, the attendees (close to 1000 people over the almost 22 events), who choose to participate and take time from your days to meet with peers and hopefully learn new things and make new contacts to take back and use to impact your businesses.
This upcoming event with Mitch will be no different in that you'll be encouraged to converse, ask questions, and even challenge some of the wisdom imparted via CTRL ALT Delete, Mitch's latest book. Clearly you'll have an easier time following along if you pick up and read the book beforehand, one lucky winner will take away an autographed version as a door prize!

Here's a quick write up and pic for those unfamiliar with Mitch, and for those wanting to learn more, you can check out this page on the Twist Image site.

Mitch Joel is President of Twist Image – one of the largest independent Digital Marketing agencies in North America. Marketing Magazine dubbed him the "Rock Star of Digital Marketing" and called him, "one of North America's leading digital visionaries." Mitch is a past Chairman of the Board of Directors of the Canadian Marketing Association and a former Board Member of the Interactive Advertising Bureau of Canada.
Mitch speaks frequently to diverse groups like Wal-Mart, Starbucks, Nestle, Procter and Gamble, Unilever and has shared the stage with former President of the United States, Bill Clinton, Sir Richard Branson, Malcolm Gladwell, Anthony Robbins, Tom Peters and Dr. Phil.

Mitch is a regular columnist for the Harvard Business Review, The Huffington Post and other magazines and newspapers. His first book, Six Pixels of Separation (published by Grand Central Publishing - Hachette Book Group), named after his successful Blog and Podcast is a business and marketing bestseller. His latest book, CTRL ALT Delete, (also published by Grand Central Publishing) was released in May 2013.

As with any invited guest, we ask that you observe the start and finish times of the event courteously. The conversation will get under way no later than 8:30am and will run until 10am. The expectation is such that attendees come armed and ready with questions for Mitch and the other attendees to reflect and comment on.
-   -   -   -   -   -   -   -   -   -   -   -   -   -   -   -   -   -   -   -   -   -   -   -   -   -   -   -   


Bring your iPad, notebook and smart phone. You are invited to ask away and take notes, join the conversation, meet your peers and learn.
 -   -   -   -   -   -   -   -   -   -   -   -   -   -   -   -   -   -   -   -   -   -   -   -   -   -   -   -  

The breakfast and the event will be hosted at La Bistrote, cafe-bistro, with Dana Elsliger and her team. (1510 Rue Notre-Dame Ouest, corner with Guy). Great food, great ambiance and lots of smiles! Acces by Metro Lucien Lallier and Metro Guy are walking distance.
50 spaces available. First come, First Served.
-   -   -   -   -   -   -   -   -   -   -   -   -   -   -   -   -   -   -   -   -   -   -   -   -   -   -   -  
One of the founders of SMB-Montreal will be acting as co-moderator for the event. Thanks as always to friends Luis London, Natalie Riviere, and Phil Leithead for their help  with the organization.
Contact jeff@neteyecon.com with any questions.


-   -   -   -   -   -   -   -   -   -   -   -   -   -   -   -   -   -   -   -   -   -   -   -   -   -   -   -  
Attendee List
Sort by:

Date

|

First Name

|

Last Name
When & Where

La Bistrote
1510 Notre-Dame Street West
Montreal, QC H3C 1L2
Canada

Wednesday, January 22, 2014 from 8:00 AM to 10:00 AM (EST)
Add to my calendar