#SMByyc94 - Social Media Breakfast Calgary

Friday, November 24, 2017 from 8:30 AM to 10:30 AM (MST)
Event Details
 Social Media Breakfast Calgary #94
8:30 am – 10:30 am, Friday, November 24, 2017
Fort Calgary
Calgary Social Media Breakfast (SMByyc) Presents
#SMByyc94 – Beyond Inspiration to Impact 
The countdown to #SMByyc100 continues. 
In marking the 150th Anniversary of Canadian Confederation we will have a discussion on Communications, Media & Social Media in relation to Canadians and our young country.  Lowa Beebe is of Blackfoot decent and has lived in Calgary for the past 23 years and Brad Clark's is of European decent and was born in Calgary. They will also both share  perspectives on communication from their own culture, history, careers and community. 

It is my honour to announce that the discussion will be facilitated by a duo. 
Lowa Beebe is a community leader, a social media guru and a poetic storyteller. As she shares photos and stories from every event she participates with on her social channels, It often feels like she must have a clone. 
Brad Clark is the Chair of the Journalism and Broadcast Studies at Mount Royal University. With a background in journalism he offers a breadth of experience to his students. 
If you are not able to attend, follow and join in on the discussion via tagboard:
SMByyc94_TB.  Collection of posts from Twitter, Facebook & Instagram.
About the Event
When:          Friday, November 24, 2017
Time:           8:30 AM to 10:30 A.M.
Where:         Fort Calgary

                     750 – 9th Avenue S.E.  |  Calgary, AB  |  T2G 5E1
Parking:       Free parking lot. 
Location:     MAP  
 PLEASE SUPPORT OUR GENEROUS SPONSOR 
Venue AND Breakfast Sponsor:  Fort Calgary
Fort Calgary is operated by the Fort Calgary Preservation Society. The Society's mandate is to preserve, utilize, develop, interpret and promote Fort Calgary for the benefit of the citizens and visitors to the city of Calgary. 
The Society is governed by a Board consisting of volunteer members from the community. Fort Calgary is owned by The City of Calgary and is operated by the Fort Calgary Preservation Society. 
Fort Calgary is the symbolic heart and hub of the community. From its majestic and sweeping vantage point, Fort Calgary represents the actual genesis of the city that surrounds it today. 
It is the authentic lens through which Calgary's history is interpreted and presented to frame the values, codes of conduct and distinctive character that spread into every facet of today's society, culture and commercial development. 
For those who cherish the significance of authenticity and the relevance of roots, "The Fort" is the enduring opportunity to understand, touch and experience the birthplace of Calgary's character, spirit and deeply enshrined values. 
Website:      fortcalgary.com/
Twitter:        @fortcalgary
Facebook:   /fortcalgary
Instagram:    @fortcalgary
LinkedIN:      https://www.linkedin.com/company/17880208/


SPEAKERS
Lowa Beebe 
Lowa Beebe is a proud member of the Piikani Nation of the Treaty 7 Tribes who excels in a number of areas and specializes in public relations, media and communications.  She consults with the Assembly of First Nations and Eagle Law Group and is the CEO and owner of Naato'si Design and Consulting Ltd.
Her post-secondary includes Business Administration Degree program, with a major in Marketing from Lethbridge Community College and Athabasca University.  Over the years her career has included working with Xerox Canada, Telus Communications, Telus Mobility. Community Consultation & Engagement with First Nations and Metis Communities and Organizations in Manitoba, Alberta, British Columbia and Saskatchewan; and the Non-Profit sector. 
Over the years she has gained experience working directly with First Nations in Policy, Custom Election Codes, Governance, Consultation and more; working directly with Chief and Council Members, Consultation Offices, Land, and Administrations. 
Her other work experience includes management of office and staff; writing; public speaking; facilitating; Human Resources; community Open Houses and meetings;  social media management; data collection; data analysis and recommendations.  Her volunteer experience includes working with numerous non-profit agencies and serving as a Board Member on various Board of Directors
In 2014 she received the Community Champion Award from the Women in Leadership Foundation for her work Volunteer work in the city of Calgary. Also, in 2016 she received a First Nation Builders Series Award for her success in her business Naato'si Design & Consulting Ltd.
Website:      https://lowabeebe.com/ 
Twitter:        @LowaBeebe
Facebook:   /Lowabeebe
LinkedIN:     https://www.linkedin.com/in/lowabeebe/
Brad Clark: Chair, Journalism and Broadcast Media Studies
Mount Royal University  
Before arriving at Mount Royal in 2006, Dr. Brad Clark spent six years as a national reporter for CBC Radio based in Calgary, covering the oil and gas industry from Caracas, Houston, Tuktoyuktuk and Washington D.C. His career at CBC started in Edmonton in 1992, where Brad's duties included reporting for an award-winning radio investigative team. At CBC his personal interest in sports often crossed into his professional life too; he reported on the NHL lockouts and Stanley Cup finals, the Paralympics in Salt Lake City, and the Summer Olympics in Athens. Brad has a Master's degree in Journalism Studies from the University of Wales (Cardiff) and a doctorate from Charles Sturt University in Bathurst, Australia. His doctoral dissertation examined network television news representations of Aboriginal peoples and ethno-cultural minorities in Canada.
LinkedIN:     https://www.linkedin.com/in/brad-clark-2477a419/
It is always a pleasure to support our friends at Melrose with their annual toy drive!

Change to RSVP this month.
It will be FREE to RSVP - BUT...
Your RSVP is a commitment to do one of the following:
  - bring an unwrapped toy
OR
 - pay $10 at the door.

All toys and monies will be donated to 
The Magic of Christmas

Here is a wishlist from The Magic Of Christmas
For gifts for teens and tweens.
*image courtesy of The Magic of Christmas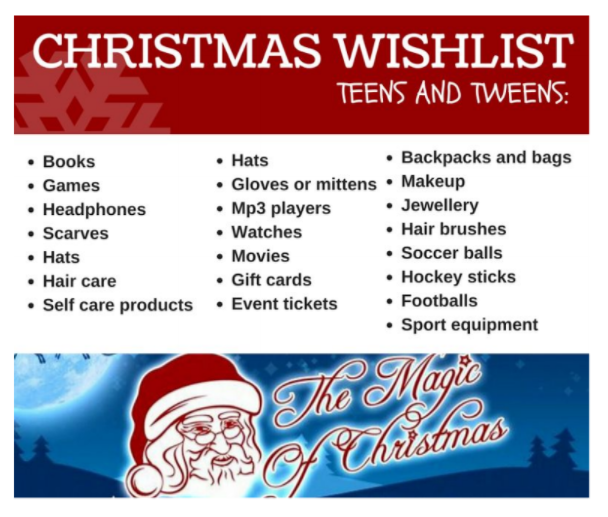 Attendee List
Sort by:

Date

|

First Name

|

Last Name
When & Where

750 – 9th Avenue S.E.
Fort Calgary
Calgary, AB T2G 5E1
Canada

Friday, November 24, 2017 from 8:30 AM to 10:30 AM (MST)
Add to my calendar
Organizer
SMByyc Host Committee
About SMByyc 
360 is total immersion. What you came to love from SMByyc, you are going to love with our brand new 360 version! As we learn, in this immersive place that isn't even fully built yet, we are waiting for technology. We are at the forefront of merging realities and we are going to learn right along with everyone else. Get ready to leave our events charged with new ideas and new tech discoveries that propel your businesses and non-profits towards the the future of everything.
 Special THANKS to our ongoing event sponsors for their continued support of Social Media Breakfast…
Equipment Sponsor:  
Matrix Video Communications
(403) 640-4490
matrixvideocom.com
@MatrixVideoMVCC 
Sponsor:  
Pressed OH
Rob Rondinelli & Andrea Langmo
info@thebigoh.ca
http://www.thebigoh.ca
@PressedOH  
Sponsor:  
Christy Turner Photography
Christy Turner
info@thebigoh.ca
facebook.com/christyturnerphotography/
@aurorachaseryyc  
Sponsor:  
Dialog Loop
Dinesh Advani
dinesh@dialogloop.com
http://dialogloop.com
@dialogloop  
Co-Founder:  KAOS
Donna McTaggart
donnamct@kaosbiz.com
kaosbiz.com/
@donnamct   |   @kaosbiz

Interested in Sponsoring a Social Media Breakfast?
For reasonable fee your organization can get some fantastic exposure at the events and online.  It is an inexpensive way to get quality back links to your social networks.
About SMByyc
The SMBYYC houses an open environment to share today's best and worst examples of social media, as practiced by individuals, industries and organizations in Calgary and around the world. Guest speakers share their experience and expertise of social media use, followed by an opportunity to network with a community of like-minded individuals.
Please follow @SMByyc. This will allow you to connect with all Calgary Social Media Breakfast followers.
SMByyc Team Members:
Donna McTaggart: @donnamct
Debbie Laval: @lolaDLaval
Kelly Hipkin: @KellyHipkin
Art Proctor: @ajproc
Sam Rafoss: @SamRafoss
Victoria Bennett: @VikiBennett
Boris Vujanovic: @bvujanov
To add your name to mailing list:
Please visit our website at smbyyc.com
(You will receive email with a link to the SMByyc Press Release to RSVP) 
For more information, contact:
Donna McTaggart @SMByyc
donnamc@kaos-consulting.com