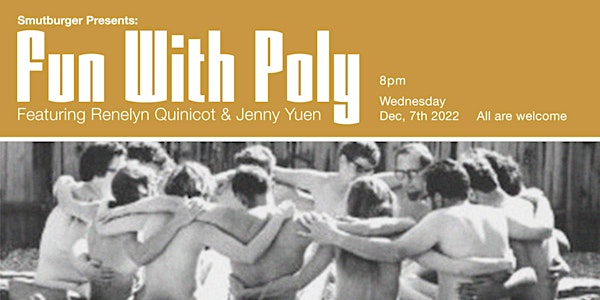 Smutburger Presents: Fun with Poly
Smutburger wants to investigate expanded conceptions of sex and love, focussing on the ins and outs of the poly experience for women.
About this event
As the practice of polyamory and ethical non-monogamy gradually becomes more open and known in our imagination, what still needs to be understood? What does it mean to love more than one person at the same time? How does polyamory function in our overriding Western culture of monogamy, possession and jealousy? Does this type of relationship challenge the dominant culture in larger ways, outside of the bedroom? How do people get into poly – by accident or by drive? And is polyamory a practice or an identity? Does it differ between LGBTQ and heterosexual communities? What are the histories, both established and less known? And of course, because this is a Smutburger event, what is the literature of polyamory? Guests Renelyn Quinicot and Jenny Yuen explore these questions and more in an evening of open dialogue and exploration.
All are welcome. Free to attend.
Panel discussion moderated by Courtney Toderash and Tamara Faith Berger.
Q&A to follow
Jenny Yuen
Jenny Yuen is the author of Polyamorous: Living and Loving More, which showcases Canadian stories of ethical non-monogamy. She is an award-winning news reporter, covering local, provincial and national stories, and has written for the Toronto Sun, Toronto Life, Now Magazine and CBC. She currently works in communications, is a proud poly partner and lives in Toronto with her family.
Renelyn Quinicot
Renelyn Quinicot (she/her) is a queer filipina artist and movement & meditation teacher born, raised, and offering various classes and experiences in, downtown Toronto. The events she curates root in an exchange of storytelling, resources and other tools for care to support all, especially artists and the growing ethically non-monogamous community. Her facilitation in the wellness and arts communities centres in the belief that the body is a carrier of lineage and story, and explorations of PLAY as a radical reclamation of Self.
This series is funded by the Toronto Arts Council.