Description
So Fun is a social enterprise fundamentals workshop that has been developed for those who want to learn more about the lean startup principles for social enterprise. This full-day workshop on January 19th (9:00am - 4:00pm) provides in-person education, contextual examples, exercises, and tools to help you build and grow a social enterprise. Using a case study of an award winning social enterprise, Mission Possible, participants will walk through the business model canvas and then have an opportunity to build one for their own situation. Come and learn with and from social entrepreneurs.
Tools and Topics Include:
Business Model Canvas
Customer Discovery Process
Financial Modeling & Corporate Structure for Social Enterprise
Theory of Change
Pitching and Storytelling
Funding Opportunities
Lisa McIntosh from Urban Harvest Organic Delivery will also be featured for a lunchtime Q&A session. From idea to implementation and the ongoing development of the business, a core dedication to social responsibility and the environment have characterized Urban Harvest. "We incorporate a strong environmental focus into our work, from ensuring produce waste goes to local chickens and bunnies, to saving and returning produce boxes to farmers for re-use, to coordinating shipments from local suppliers to minimize food miles. On the social side, we are committed to a 'no frills', bare bones overhead, to ensure that prices are kept affordable for customers, while suppliers and staff are paid fairly. We also support a wide range of events and organizations on a regular basis."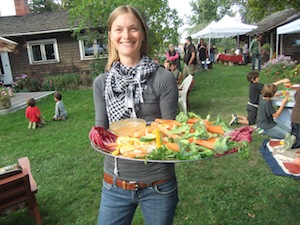 A social enterprise is an organization that is setup to use a business model to solve a social or community challenge. Incorporation models can include non-profit, charity, co-op, for-profit, CCC, etc. It is about using entrepreneurial models to fund long-term solutions to social and community challenges.
This workshop is ideal for non-profit and charity leaders, entrepreneurs, 'wantrepreneurs,' students, government employees, employees of small and medium size companies, and anyone who is looking to implement community and social change initiatives.
Your ticket includes a copy of all content, exercises, coffee, tea, water, and lunch.
Purppl, in collaboration with the Scotiabank Centre for Non-Profit Excellence is excited to offer the So Fun workshop.
No refunds will be given, but we are happy to transfer your ticket to a friend or colleague if you are unable to attend.