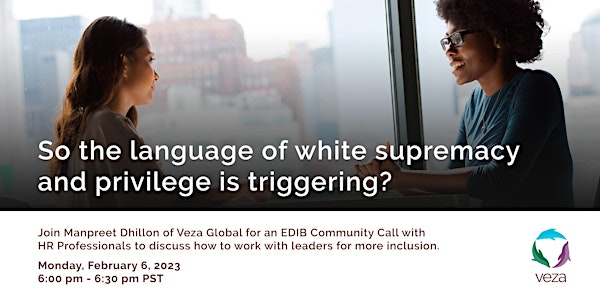 So the language of white supremacy and privilege is triggering?
Join Manpreet Dhillon ofVeza Global for an EDIB Community Call with HR Professionals to discuss how to work with leaders for more inclusion
About this event
From the desks of many equity, diversity, inclusion and belonging professionals, we have heard that the language of white supremacy and privilege is triggering, and it can be a barrier to moving forward toward real inclusion.
In this community call, we invite human resources professionals to come together to discuss how they have navigated this conversation, called leaders in and moved towards inclusive culture.
Get your questions ready as our EDI experts answer what's on your mind. We look forward to seeing you there!
Your hosts are:
Manpreet Dhillon
Ranked #15 globally on the 2020 EmPower Ethnic Minority Future Leaders list, Manpreet Dhillon is the Founder, Veza Global. Over the past 15 years, Veza Global has built and supported the implementation of EDI throughout all levels of an organization by applying research-based organizational maturity models and utilizing proprietary assessment technology developed from our international experience. Manpreet has over 20 years of leadership, coaching, human resources, change management, internal audits and community development expertise. She focuses on creating systemic change to address institutionalized inequalities through representation from the communities being served.
Event Details
Date: Monday, February 6
Time: 6:00pm- 6:30pm PST
Where: Zoom
Cost: Complimentary