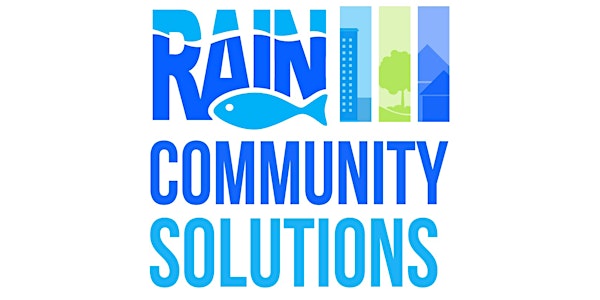 Soak it Up! Webinar Series Fall 2016
Refund Policy
Contact the organizer to request a refund.
Description
Reminders:
Registered participants will receive a follow-up email after a webinar with the recording link. Recordings can be viewed on browsers.

Before you register, check out the FAQs section below to ensure you have the technology required to attend the webinars live.

After you have registered, check your spam folder in case emails with access information or updates about the webinars have gone into spam.

Participants from a charity or not-for-profit organization may

contact the organizer

about the possibility of a subsidy.
Weathering the drought—using green stormwater infrastructure to manage the impact of dry seasons.
September 28, 2016, Wednesday, 1-2pm (EDT)
Presented by Catlow Shipek, Policy and Technical Director, Watershed Management Group
Green infrastructure is a tool for managing rainfall. So what if there isn't any? Many Canadian cities have been experiencing the driest growing season on record, and climate change experts expect that these dry extremes will become the norm. We need to provide opportunities to capture rain for reuse and allow it to soak into the ground where it can recharge groundwater, so cities and agriculture can become more resilient to drought.
Join us to hear about the great work that the Watershed Management Group (WMG) is doing in Tucson, Arizona—a place where drought is the norm. Hear how WMG is using community-based green stormwater infrastructure to capture water during the rainy season to help harvest rain water and recharge groundwater in order to mitigate the impacts of the dry seasons.
Transforming rainwater management on the Ontario landscape - the changing policy environment
October 13, 2016, Thursday, 1-2pm (EDT)
Presented by Anastasia M. Lintner, PhD, LLB, Environmental Lawyer and Clifford Maynes, Executive Director, Green Communities Canada
The Ontario government appears to be embracing a new paradigm for stormwater management using green infrastructure (low impact development) to reduce runoff and runoff pollution. Environmental lawyer Anastasia Lintner, and Clifford Maynes, Executive Director of Green Communities Canada will talk about two important processes under way now: the Coordinated Land Use Planning Review and the Low Impact Development Guidance Document (including runoff volume expectations). Anastasia and Clifford will outline provisions in these important policy initiatives, and talk about strengths, weaknesss, and opportunities for improvement.
Roads and runoff—using green infrastructure to manage stormwater runoff from roads and highways.
November 23, 2016, Wednesday, 1-2pm (EDT)
Presented by Robert Goo, Office of Research and Development, USEPA
There are over 900,000 km of roads in Canada, creating thousands of square kilometers of impervious surface which rain water washes over carrying pollutants into our waterways. Managing road runoff through rain gardens, bioswales, infiltration galleries or urban trees in the rights-of-way reduces runoff volumes and stormwater pollution. It can also make streets safer and more pleasant for pedestrians and cyclists, while sequestering carbon. Some cities (Toronto, Philadelphia, Boston) are now beginning to institutionalize this approach, through complete streets and green streets policies. Pilot projects which infiltrate stormwater runoff in rights-of-way have proven very successful. Costs have consistently been shown to be lower and performance has exceeded expectations.
Join us to learn about what the US Environmental Protection Agency has done to enhance right of ways by using green stormwater infrastructure.

FAQs
1. What do I need to participate in the webinars?
high-speed internet connection (hard-wired is preferred over wireless connections)

a desktop, laptop or a mobile device (tablet or smartphone running iOS or Andriod

a headset or a headphone with mic connected to your device (there is no phone dial-in option available at the webinar). Microphone is not required if you prefer "listen only" to the webinar; a chat box is available in the virtual webinar room to type in your questions to the presenters.

a browser (if you are using desktop or laptop computers)

Adobe Connect Mobile Apps (if you are using a mobile device) available for free download from Apple App Store or Google Playstore
2. How do I know if I meet system requirements to attend the webinars?
The webinars will run on Adobe Connect. You may test your computer prior to attending the webinar. You can do this by going to http://admin.adobeconnect.com/common/help/en/support/meeting_test.htm

The test checks your computer to make sure all system requirements are met. If you pass the first three steps of the test, then you are ready to participate in a meeting.
3. How do I join the webinars?
You will receive an email invitation with webinar access information two days before the webinar day and a reminder email on the morning of. To join the webinar using desktop or laptop computers, click on the link or enter the URL from the email invitation into your favorite web browser. If you are using a mobile device, your device will prompt you to open or intall Adobe Connect Mobile Apps and you follow the instructions to join. It is remmended that you join the webinar about 10 minutes before the webinar start time.
4. Where can I get more information about the webinars?
For more information about the content or update about the webinars, please visit RAIN Community Solutions web site at http://www.raincommunitysolutions.ca/en/webinar-series/
For more information on how to join and participate in the webinars, please read the Adobe Connect Visual Quick Start Guide for Participants.
5. What if I were not able to attend a webinar at the scheduled time?
Anyone who registered to a webinar will receive an email after the event. The email will provide you with a web link of the recording for that particular webinar. You can view the recording on internet browsers.