Event Information
Location
HEC Montréal - Amphithéâtre Banque Nationale
3000 Chemin de la Côte-Sainte-Catherine
Montréal, QC H3T 2A7
Canada
Refund policy
Contact the organizer to request a refund.
Eventbrite's fee is nonrefundable.
Conférence - Social Business Creation - Conference
About this event
English version follows
La conférence SBC est une plateforme d'échange intellectuel entre universitaires et praticiens visant à faire avancer l'entrepreneuriat social. La conférence se tiendra les 20 et 21 janvier 2022 dans un format hybride, soit à la fois en ligne et en présentiel à Montréal, au Canada. Elle comprendra des exposés stimulants présentés par des leaders mondiaux tels que le professeur Muhammad Yunus, prix Nobel de la paix 2006, le professeur Ayman Eltarabishy, président et directeur général du Conseil international des petites entreprises, etc. Les participants pourront également assister à des présentations d'articles, participer à des ateliers de développement professionnel et prendre part à des caucus pour discuter des enjeux contemporains et des solutions potentielles aux défis sociaux par le biais d'actions entrepreneuriales. Les quatre principaux thèmes sont les suivants :
1. Reconnaissance et développement des opportunités pour les entreprises sociales
2. Mesure de l'impact social et investissement d'impact
3. Formation entrepreneuriat et innovation sociale
4. Économie circulaire
Plus d'information de la conférence est disponible au https://socialbusinesscreation.hec.ca/conference/
-------------------
SBC conference is a platform for intellectual exchange among scholars and practitioners to advance the field of social business. The conference will be held from the 20th to the 21st of January 2022 in a hybrid format, both online and in Montreal, Canada. It features thought-provoking keynotes by world leaders, such as the 2006 Peace Prize Nobel Laureate Prof. Muhammad Yunus, President & CEO of the International Council for Small Business Prof. Ayman Eltarabishy, etc. In addition, the participants will join multiple parallel sessions for paper presentations, professional development workshops, and caucuses to discuss contemporary issues and solutions to social challenges through entrepreneurial actions. The four overarching themes are:
1. Opportunity recognition and development for social businesses
2. Social impact measurement and impact investing
3. Circular economy
4. Social innovation entrepreneurship education
Visit the conference website at https://socialbusinesscreation.hec.ca/conference/ for more information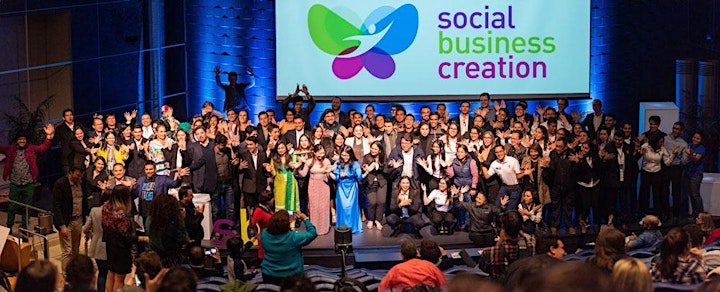 Date and time
Location
HEC Montréal - Amphithéâtre Banque Nationale
3000 Chemin de la Côte-Sainte-Catherine
Montréal, QC H3T 2A7
Canada
Refund policy
Contact the organizer to request a refund.
Eventbrite's fee is nonrefundable.