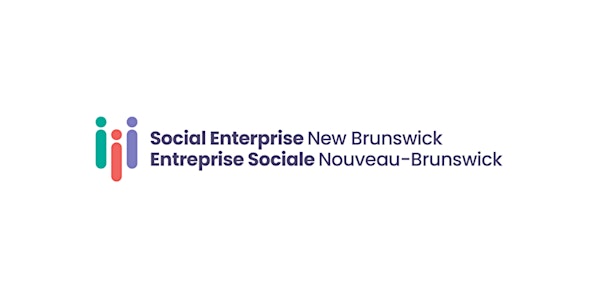 Social Enterprise Excellence - L'excellence des entreprises sociales
Celebrating Social Enterprise Excellence in NB | Célébrer l'excellence des entreprises sociales au N-B!
Date and time
Thu, Jun 15, 2023 1:00 PM - 6:00 PM ADT
Location
Wu Conference Centre 6 Duffie Drive Fredericton, NB E3B 0R6 Canada
About this event
Le français suit
If the pandemic taught us anything, it's that the magic happens when you get people together. The first Social Enterprise Excellence Event is designed to do just that - bring together social enterprise leaders from all stages from across the province to get together, discuss their practice, learn from each other and deepen their practice. You'll also get to see the results of 4 months of work from social enterprise practitioners as they present the results of their work growing their social enterprise practice in NB. You'll have the opportunity to meet with the Social Enterprise Advisory Council of NB, and hear from our province's top social enterprise leader.
The event will be held during the afternoon of Thursday, June 15th, 2023. Join us from 1 - 4PM for the conference, and from 4 - 6PM for our networking reception.
--
Si la pandémie nous a appris quelque chose, c'est que la magie opère quand on rassemble les gens. Le premier événement d'excellence en matière d'entreprise sociale est conçu pour faire exactement cela - réunir des leaders d'entreprises sociales de tous les stades de la province pour qu'ils se rencontrent, discutent de leur pratique, apprennent les uns des autres et approfondissent leur pratique. Vous aurez également l'occasion de voir les résultats de quatre mois de travail des praticiens de l'entreprise sociale, qui présenteront les résultats de leur travail de développement de leur pratique de l'entreprise sociale au Nouveau-Brunswick. Vous aurez l'occasion de rencontrer le Conseil consultatif sur l'entreprise sociale du N.-B. et d'entendre le principal dirigeant d'entreprise sociale de notre province.
L'événement aura lieu dans l'après-midi du jeudi 15 juin 2023. Joignez-vous à nous de 13 h à 16 h pour la conférence, et de 16 h à 18 h pour notre réception de réseautage.
About the organizer
The Pond-Deshpande Centre acts as a catalyst to grow and support a stronger culture of innovation and entrepreneurship in the province of New Brunswick and the Atlantic Region.

We believe that by combining innovative ideas with deep, relevant, contextual knowledge, people in our provice will be able to develop sustainable solutions to complex social, environmental & economic challenges & to create high impact ventures that "do well & do good" in our region & in the world.