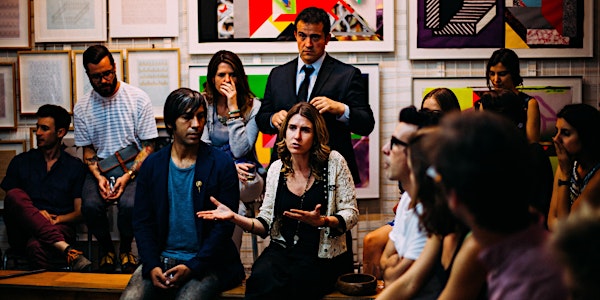 Social Improv Lab Calgary: Enhance Social Skills Scientifically
Enhance social skills to superior level, measurably and consistently, through proven and scientifically designed improv exercises for free.
When and where
Location
Memorial Park Library 1221 2 Street Southwest Calgary, AB T2R 1N8 Canada
About this event
Is Social Improv Lab for you?
Do you feel you have no/low/rusty social skills?
Do you have no safe and predictable environment to actively practice social skills with IRL human beings?
Do you lack a proven and scientific method that results in measurable and consistent superior social performance?
If you answered yes to any of those questions, Social Improv Lab (SIL) Calgary may be for you.
What do we do?
We promise measurable and consistent superior social performance (authentic charm & charisma) through proven and scientifically designed improv (improvisation) exercises at zero-cost (yes, forever free; no course selling, up or cross selling later on).
How we do what we do?
We do it through improv exercises to improve your social skills. We have peer-based (peer-group made out of people like you) safe and predictable environment designed for deliberate and repeated social exercise practice. Finally, we take a scientific (measurable, falsifiable and reproducible) approach to developing social skills that are based on solid, cutting-edge, and peer-reviewed researches.
Who are we?
Social Improv Lab is like a gym for your social fitness; a workout program for your social health. We're value public/community service. We're strictly not-for-profit.
Who are you?
You are someone in the age of majority in Alberta, that is to say, at least 18 years of age; probably in high school, college, young professional, or older. You're interested in developing your social skills to have the best social and love life you can.
What to expect?
Our meetings are safe, fun and confidential. No experience is necessary. We just go through some simple and fun improv exercises. Participation in all exercises are completely optional, and you're allowed to say "Pass" to any exercise with full support of all the other members.
Door opens at 10am Mountain time. Meeting promptly starts after that, and ends at 11.30am. You're invited to stay afterwards for fun, socializing and brunch/lunch. You'll also get invited to our Discord chat after your first meeting.
Attendance is always free. However, we invite you to donate $5-$10 per meeting, or $80-$160 per term (4 months) (optional) with old-fashioned cash/notes. Donations will mainly go into marketing, food and beverages, for now.
So, RSVP now and attend the Social Improv Lab experience, and change yourself and your social life forever for the best.
For more info, contact Amin at aminsafiq5 AT gmail DOT com, or 403.SixThreeZero.9325.
---