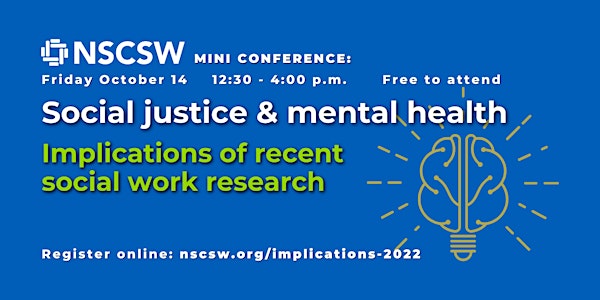 Social justice & mental health
A half-day miniconference on social work, social justice & mental health. How does Nova Scotia compare? What can we do to make a difference?
About this event
Please join the Nova Scotia College of Social Workers (NSCSW) for an important discussion regarding the implications of a recent social work study. The event is open to the public; all are welcome to attend.
"Interrogating the Impact of Neoliberalism on Social Justice Approaches to Mental Health in Social Work" provides a critical profile of the landscape of social workers' mental health service provision in Canada. This study expands on a Nova Scotia study reported in Repositioning Social Work Practice in Mental Health in Nova Scotia (2021).
The current study investigated three distinct yet related issues:
The social discourses informing social workers' beliefs about mental health problems, and how these beliefs affect their choice of treatment paradigm;
How organizational ideologies and practices influence mental health treatment options; and
The extent to which mental health services delivered by social workers challenge or reinforce neoliberal discourse on mental health.
Dr. Catrina Brown and her research team will begin with an overview of their findings. The team will then lead participants in several breakout discussion groups, as we discuss the implications for social workers in Nova Scotia.
The NSCSW Social Justice Committee will conclude our miniconference with an overview of our social justice and advocacy efforts, and engage our members in helping us to chart a path forward.
Research presenters
Several members of the research team are joining us for this mini conference:
Professional development for social workers
For members of NSCSW, participating in this event may fulfil part of the newly mandated requirements for all social workers in Nova Scotia to complete annual training or activities related to social justice. NSCSW members who have already completed that requirement for the year can track this activity as formal professional development instead.
Visit nscsw.org/pd for more information about the updated professional development requirements for Nova Scotia social workers.
About NSCSW
The Nova Scotia College of Social Workers exists to serve and protect Nova Scotians by effectively regulating the profession of social work. We work in solidarity with Nova Scotians to advocate for policies that improve social conditions, challenge injustice and value diversity. Learn more at nscsw.org.