Social Media Breakfast #30 Edmonton

Friday, 29 November 2013 from 8:30 AM to 10:30 AM (MST)
Event Details

Social Media Breakfast Edmonton Presents: Your Digital Toolbox

  by 
Austin & Zak
Social Media Breakfast (SMBYEG) #30 Edmonton 
Friday, November 29, 2013, from 8:30 to 10:30 a.m.
Startup Edmonton HQ - Mercer Building
The topic for our last SMBYEG 2013 is: "Your Digital Toolbox"
Have you ever had to try to schedule a meeting with multiple"busy" people? How about make a decision/straw poll through email? Ever wonder if your team mate got that action item done? Need to keep track of all your to dos? Share a grocery list? We are all busy so wouldn't it be nice to make your life a bit easier.
Well your friendly SMBYEG committee and guests are coming to the rescue!

We are dedicating a breakfast to bringing your attention to tools to help you do all of these tasks a little bit easier. Never be caught having a to do fall through the cracks again. Be informed about where everyone is at with projects and tasks between meetings.
Our panel will share some of our favorite tools that we use in our day to day to collaborate with others, to brainstorm, to create beautiful visuals/graphics and more. We'll share our stories and experiences with them so you'll even pick up some tips on how to best use them or functionality we found that didn't really work as intended. Come join us for an engaging discussion, leave with a few more tools for your own digital toolbox and maybe even share some tools with us too.

Panel
Aaaannnnnddddd If all of that wasn't enough reason we'll be making a super special announcement at the breakfast too.

Where: 
Startup Edmonton HQ  - Mercer Building
10363 - 104 St NW
T5J 5G5 Edmonton, AB
Cost: FREE! There is no fee to attend Social Media Breakfasts.
Special thanks to Startup Edmonton for providing the venue.
Food Sponsor
Special thanks to Top Draw Inc for providing the caffination and baked goods.
SPONSOR A SOCIAL MEDIA BREAKFAST TODAY!
For $295, your organization can get some fantastic exposure at the events and online. It's an inexpensive way to get the word out and all you have to do is nourish the attendees bodies while we nourish their minds! 
About SMBYEG
SMBYEG houses an open environment to share today's best and worst examples of social media, as practiced by individuals, industries and organizations in Edmonton and around the world. Guest speakers share their experience and expertise of social media use, followed by an opportunity to network with a community of like-minded individuals. www.smbyeg.ca
Engage and Connect with us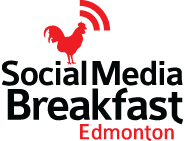 www.smbyeg.ca

 http://www.twitter.com/smbyeg        @SMBYEG   #SMBYEG

https://www.facebook.com/smbyeg

https://www.youtube.com/user/SMBYEG

http://www.flickr.com/photos/smbyeg
Want to work with us in some way, provide a lead on a sponsor, or tell us about another potential speaker reach out to your SMBYEG committee members
When & Where

Startup Edmonton HQ - Mercer Building
10363 104 St NW
Edmonton, AB T5J 5G5
Canada

Friday, 29 November 2013 from 8:30 AM to 10:30 AM (MST)
Add to my calendar
Organizer
Social Media Breakfast (#SMBYEG) is a place where anyone, inexperienced or otherwise, can assemble to learn, cultivate and celebrate the Edmonton Capital Region's dynamic social media community.
We host monthly breakfasts where guest speakers are invited to share their experience and expertise of social media use, followed by an opportunity to network with a community of like-minded individuals.
We also host other special events though-out the year.