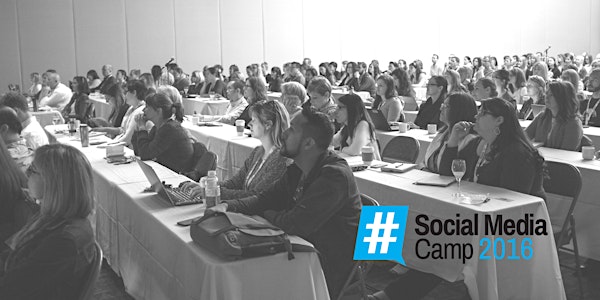 Social Media Camp - 2016
When and where
Location
Victoria Conference Centre 720 Douglas Street Victoria, BC V8W 3M7 Canada
Description
Join us for the 7th annual Social Media Camp.
Keynote speakers include:
Mitch Joel


Tara Hunt

Jesse Brown

Sue B. Zimmerman

Viveka von Rosen

Steve Dotto

and 30+ other speakers, panelists and workshops
Social Media Camp is a three-day, knowledge-rich conference that covers all key issues for getting the most out of social media marketing, whether you're responsible for driving website traffic, managing the online marketing budget, reputation management, customer service or stewarding your company's online brand.
Tickets are per person for the full three days. Please contact us if you are booking more than 5 people for a group discount. Our e-mail is register@socialmediacamp.ca.
Get the latest insights into social media marketing in 2016 at Canada's Largest Social Media Conference.

---
We are Social Media Camp - Canada's largest social media conference. What makes us unique is the broad spectrum of delegates we attract as we tackle all aspects of social media. People come from all over North America, and from all sectors of the economy - small business, large business, government, education, and non-profit.
Of course we cover social media marketing - communications, sales, crowdsourcing, e-learning, digital marketing, content marketing, e-mail marketing, inbound marketing, and more.
But we are not only a "marketing" conference. We look at the cultural impacts of social media, its effects on politics, and its security and safety implications.
What does the future hold, what's on the horizon, and what is its impact on your business, relationships, family, lifestyle, and our world?
Perhaps best of all, we network - a lot - share our ideas with each other, collaborate, build lasting partnerships, and epic ventures. In seven years, the meetings held at Social Media Camp have spawned thousands of amazing partnerships, and there are thousands more ahead.
We are a conference for experts, and a conference for beginners. If you are newer to social media, our renowned, complimentary coaching program will help kick start your Social Media Camp experience.
You can see that the Social Media Camp community is a diverse one, and we'd like to invite you to join us.
Don't miss the 7th annual event, May 5th to 7th, 2016, in Victoria, British Columbia, Canada.
Refund Policy: Tickets are non-refundable, but they are transferable to others. Just let us know at least 21 days prior to the event who the new registrant is. Any financial arrangements with the other party must be carried out yourselves.