Social Media Detox

Thursday, 13 June 2019 from 6:00 PM to 9:00 PM (EDT)
Event Details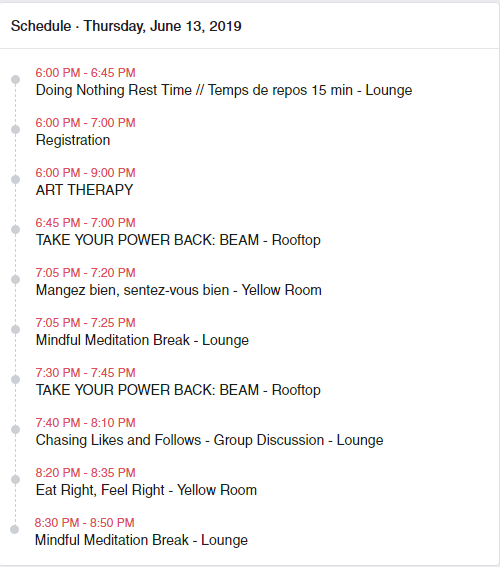 Zone Sans Téléphone Mobile
Cell Phone Free Zone
Avant de nous connecter avec le monde, nous devons nous connecter avec nous-mêmes
Before connecting with the world, we need to connect with ourselves
Dans un monde où nous sommes hyper connectés avec tout, nous ne pourrions pas nous sentir aussi déconnectés de la réalité. Cet événement est spécialement conçu pour vous permettre de vous reconnecter avec ce qui est important pour vous, VOUS!
En tant un espace culturel mettant en avant les médias sociaux, nous reconnaissons également ses effets sur les personnes. La déconnexion est toujours nécessaire pour progresser dans la vie et dans nos projets.

Rejoignez-nous alors que nous nous reconnectons avec nous-mêmes et notre environnement. Cet événement aura une politique de téléphone mobile zéro et concentrera notre énergie sur la respiration et éloignera les débordements créés par les notifications de masse que nous recevons toutes les heures.
In a world where we are hyper connected with everything, we could not feel so disconnected with reality. This event is specifically designed to allow you to re-connect with what's important for you, YOU!

As a cultural space which advocates for Social Media, we also recognize its effects on people. The disconnect is ever needed to progress forward in life and in our projects. 

Join us as we re-connect with ourselves and our surrounding. This event will have a 0 phone policy and re-focus our energy on breathing and away from the overwhelms created by mass notifications we receive on a hourly basis.
Chasser les LIKES
Les médias sociaux ont leurs avantages. Cela nous permet de retrouver nos amis, de promouvoir notre entreprise et de prendre connaissance des événements qui se déroulent dans notre communauté.

Malheureusement, nous sommes pré-occupés  avec les LIKES, FOLLOW, les commentaires et les abonnés. Nous interprétons ces chiffres comme une réflexion directe sur qui que nous sommes.
 
Est-ce que plus de LIKES et FOLLOW signifient que vous êtes plus digne? Si peu de personnes s'engagent dans un poste, est-ce que cela perd de la valeur en ce que cette expérience ou cette information signifie pour vous? Joignez-vous à nous pour une discussion ouverte et honnête sur l'impact des médias sociaux sur notre bien-être mental.
Chasing Likes and Follows
Social media has its benefits. It allows us to catch up with friends, promote our business and learn of events in our community.

Unfortunately, many of us are consumed with likes, follows, comments and subscribers. We interpret those numbers to be a direct reflection as to WHO we are.

Do more likes and followers mean you are more worthy? If few engage in a post does it lose value in what that experience or information means to you? Join us for an open and honest discussion about how social media impacts our mental well-being.
Mindful Meditation Break

A relaxation zone where Nicole Fortuanso relaxation and tranquility expert from justbreathin.ca is providing three Mindful Meditations during the event to help you stop, release stress, connect with yourself and invite in beautiful calming energies. 

In these 20min sessions you will learn about mindfulness and get to experience a mindful meditation and visualization.
TAKE YOUR POWER BACK: BEAM

Control the one thing we DO have power over: our energy. In this workshop we'll explore how using our body to affect our mind will really help to build a more solid relationship with social media so we can begin to train ourselves to see where the problems lie, and then have some tools to address them. BEAM is your blueprint for bringing your most powerful tool to combat the negative effects of social media: Your PRESENT STATE.

Listen to our Podcast with Alikona
Mangez bien, sentez-vous bien
 
Nancy veut vous aider à bien manger pour que vous puissiez vous sentir bien et sa devise est: «La santé est votre plus grand atout. Investissez dedans et cela rapportera des dividendes. "
 
Comment la nourriture influe-t-elle sur nos émotions et sur la façon de procéder au cours de la journée? En savoir plus sur les secrets d'une bonne nutrition.
 
Eat Right, Feel Right

Nancy want to help you to eat right so you can feel right and her motto is: "Health is your biggest asset. Invest in it and it will pay dividends."

How does food impact our emotions, and way to process through the day? Learn about the secrets behind a good nutrition. 
Renee realized years ago, as a young mother,  that exploring her creativity on a regular basis was an essential part of maintaining well-being and a sense of balance in her life. Regular time spent in her art studio and yoga studio and out in nature have helped tremendously in coping with the challenges of day to day life.  It is from nature that Renee has drawn the majority of her inspiration and most recently has enjoyed jewelry making as well as mixed media painting.  Goddesses and Buddhas are her latest curiosities even though flowers remain her favorite subjects.
http://lusciouslotus.com/
https://www.facebook.com/lusciouslotusart/
When & Where

Lounge 4284
4284 rue De La Roche
Montreal, Quebec H2J 3H9
Canada

Thursday, 13 June 2019 from 6:00 PM to 9:00 PM (EDT)
Add to my calendar
Organizer
le Lounge 4284 offre des formations et événements pour entrepreneurs, créateurs de contenu et le grand public.