Social Media Marketing 101

Tuesday, September 17, 2013 from 9:30 AM to 4:30 PM (PDT)
Event Details

STOP wasting your time on
Social Media!
By:  Axis Impact Marketing, Inc.
With Deborah Kriger
You read it right.  If you're using Social Media as a marketing tool for your business, you should be seeing results - measurable results.  
Spend a day at the Social Media 101 for Business workshop and:
Get your Twitter account set-up and know how to use it
Understand how to separate business from pleasure on Facebook
Set up your business page on Facebook PROPERLY
Optimize your LinkedIn profile
Know what to post on each social network
Understand how to measure those results!
In order to achieve a goal, you first need to have one.  The morning session of Social Media 101 for Business will help you:
Define your target market

Get clear about your brand message

Decide which Social Media Networks to focus on
Get ready to roll your sleeves up and make some decisions. This is more than a WORKshop, it's a TEAMwork/shop.  
At AIM, we be believe that we can accomplish more when we work together.  Be prepared to contribute to other business owners and enjoy a team effort to bring fresh ideas to your marketing plan.
In the afternoon session of Social Media 101 for Business, you will crack open your laptop and start putting it all together.  We will show you how to use Hootsuite to manage all of your Social Media efforts in one place and when you walk out of Social Media 101 for Business, you'll be confident to move forward with your plan.
This event INCLUDES LUNCH.
You must have a laptop to participate in this workshop.
(Not a smartphone or tablet.)
Please let us know if you need a loaner laptop for the day
Who should attend:  
You want to start using Social Media for business
You want to get more RESULTS from Social Media marketing
Who should not attend:
If computers themselves make you pretty nervous, a group session may not be the right fit for you.  Please talk to us about a private consultation.
About Deborah Kriger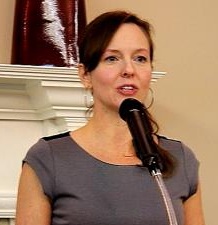 Deborah Kriger is an entrepreneur, mother, world
traveler, and adventure seeker.  More than 20 years 
of sales, marketing and operational experience led 
Deborah, Founder of Axis Impact Marketing, to 
serve business owners in achieving their sales and 
expansion goals.
Along with a lifetime tinkering with technology and developing software
 expertise, Deborah has an eye 

to streamline operational and 
marketing efforts and

has demonstrated the ability 
to help business 

people reclaim their time while 
maintaining the 

integrity of their brand message.
When & Where

Langley Events Centre
7888 200 St
Langley, BC V2Y 3J4
Canada

Tuesday, September 17, 2013 from 9:30 AM to 4:30 PM (PDT)
Add to my calendar
Organizer
IMPACT Marketing International, Inc. provides training, consulting and tools to help you generate leads for your business.  Oh yeah... we also like to have fun.
We understand that the marketing landscape can be overwhelming and confusing these days. Business owners and marketing managers are trying to integrate their existing strategies with internet marketing and social media management along with bringing their staff on board with business objectives.
We assist with marketing plans and integration, utilizing strategic partners when necessary to execute strategies for email marketing, article and news release writing & distribution, social media management, website design and optimization.
"Ultimately, our business is to deliver leads and prospects to your website, your phone or through your door."