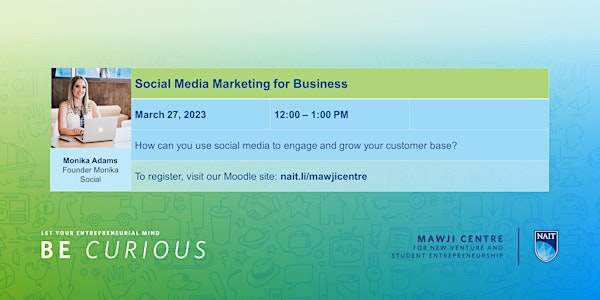 Social Media Marketing for Business
If your small business isn't on social media, you could be missing out on significant value, including new customers and insights
Date and time
Mon, Mar 27, 2023 12:00 PM - 1:00 PM MDT
Location
Hybrid, choose to attend in-person in the CAT 309D in CAT Building or stream in 11762 106 Street Northwest Mawji Centre for New Venture and Student Entrepreneurship Edmonton, AB T5G 2R1 Canada
About this event
If your small business isn't on social media, you could be missing out on significant value, including new customers, insights into your brand, and audience and engagement opportunities with customers and competitors alike. If you haven't built up a following, you may as well be yelling in the desert. How do you build your brand presence using social media? Which platforms should you engage in? What techniques work best?
Join us for this informative session facilitated by Monika Adams, founder of Monika Social. As a NAIT Alumni, Monika successfully completed a marketing diploma and then went on to work in the marketing industry for three years. Seeking to expand her knowledge and skills, Monika went back to NAIT and completed another diploma in human resources while continuing to work full time.
After gaining ten years of industry experience at Home and Land developers, Monika decided it was time to start her own marketing business. Since beginning her business, Monika was able to build a clientele in which she manages and helps expand their consumer demand through social media reach. Monika's passion and resilience is reflected in her work through coaching, hosting interactive workshops, public speaking, and more with various local organizations.
Monika is now a Marketing Mentor at NAIT (Northern Alberta Institute of Technology) through the Mawji Centre for New Venture and Entrepreneurship.
Attend this session in-person or virtually by selecting the appropriate ticket type.
About the organizer
The Mawji Centre for New Venture and Student Entrepreneurship fosters entrepreneurial spirit, critical thinking and collaboration.
We bring NAIT students together from all program areas and helps them cultivate new ideas and creativity, by delivering experiential programs, events and connections that students need to be successful.
If you are faculty or a student, join our Moodle site.