Social Media Marketing For Your Small Business (Student Edition!)
Social Media Marketing for Student Summer Start-Ups
About this event
Are you a student who is interested in taking your small business to the next level? Join us for a free one-hour workshop on social media marketing, identifying your target audience and branding basics.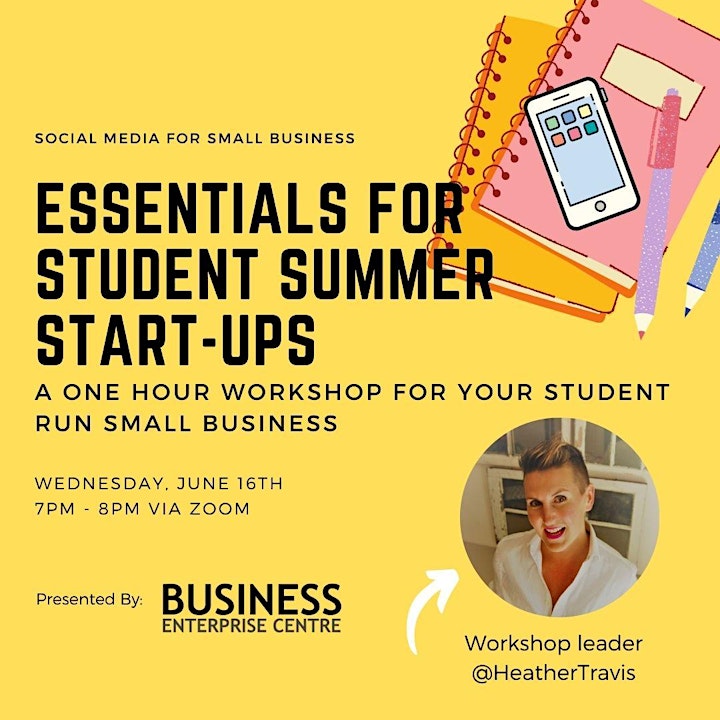 Organizer of Social Media Marketing For Your Small Business (Student Edition!)
The Business Enterprise Centre (BEC) is a business development service centre under the Economic Development Department of County of Grey. It helps local business owners and startups with information, tools, and guidance for their business.
What BEC offer?
1. Consultation (Free business consultations, Guidance on government rules and regulations, Ten step guide to starting a business, Financial advice)
2. Resources (Resource materials, Free computer workstation, Connection with Angel Investor Network)
3. Programs (Summer Company, Starter Company Plus, Futurepreneur)
4. Events & Activities (Seminars and workshops, Networking and learning events)
5. Mentorship (Free expert advice and suggestions)
Contact us:
Business Enterprise Centre
County of Grey
595 9th Ave East
Owen Sound, ON N4K 3E3
Phone: Manager: 519-374-9089
Email: bec@grey.ca