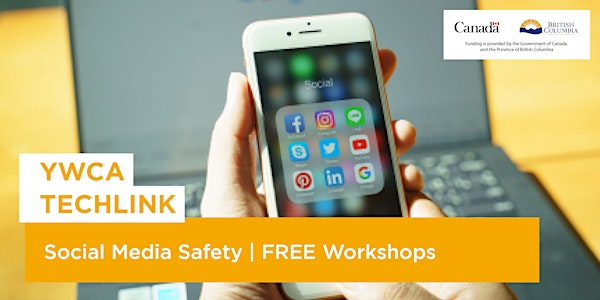 Social Media Safety & Privacy October 14 | Free Online Workshop
How much is too much to share about yourself on social media? Join us at this free workshop to learn how to protect yourself.
About this event
At this 1-hour virtual workshop, presented by IT Helpdesk Analysts from YWCA Metro Vancouver's TechLink program, we'll discuss dangers common to most social media platforms, as well as specifically look at platforms such as Facebook, Twitter, Instagram, and other apps.
Sharing on social media safely
Limiting public social media presence
Configuring app privacy settings
Creating strong passwords
Common social media scams
Online harassment
Funding provided by the Government of Canada and the Province of British Columbia
Register Now!

YWCA TechLink is a program for internationally-trained professionals or Canadians who want to pursue careers in tech but have limited Canadian work experience. Our IT Helpdesk Analysts are gaining local experience to build their careers in tech, while providing free IT support and technical assistance to community members who face challenges accessing online services during COVID-19. To request support, visit ywcavan.org/techlink-support.
Stay in the know by signing up for our newsletter!