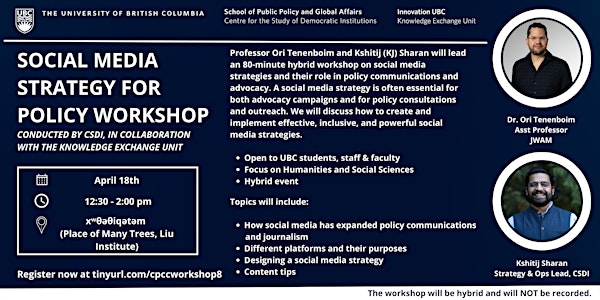 Social Media Strategy for Policy (Humanities and Social Sciences)
An 80-minute workshop on social media strategies & how to use them as an advocacy tool, conducted by Dr. Ori Tenenboim and Kshitij Sharan.
By Centre for the Study of Democratic Institutions
Date and time
Tue, Apr 18, 2023 12:30 PM - 2:00 PM PDT
Location
xʷθəθiqətəm (Place of Many Trees), Liu Institute for Global Issues 6476 NW Marine Drive Vancouver, BC V6T 1Z2 Canada
About this event
1 hour 30 minutes

Mobile eTicket
About the Workshop
Professor Ori Tenenboim and Kshitij (KJ) Sharan will lead an 80-minute hybrid workshop on social media strategies and their role in policy communications and advocacy. A social media strategy is often essential for both advocacy campaigns and for policy consultations and outreach. We will discuss how to create and implement effective, inclusive, and powerful social media strategies. The workshop is open to students, faculty, and staff at UBC. This workshop will focus on social media strategies for research in the 'humanities and social sciences'. A separate workshop will be held for the 'sciences' and more details can be found here
This workshop is part of the Policy Communications Workshop series run by the Centre for the Study of Democratic Institutions (CSDI) at the School of Public Policy and Global Affairs at UBC, in partnership with the Knowledge Exchange Unit, VPRI.
Topics will include:
How social media has expanded policy communications and journalism
Different platforms and their purposes
Designing a social media strategy
Potential pitfalls
Content tips
The Zoom link for those who registered online and workshop resources will be sent to the email address provided 1-2 days before the workshop.
Speaker Bios
Dr. Ori Tenenboim
Ori Tenenboim (PhD, The University of Texas at Austin) is an Assistant Professor in the School of Journalism, Writing, and Media at the University of British Columbia in Vancouver. His main areas of interest include digital journalism, political communication, and media economics. He investigates how journalists and news organizations blend older and newer norms, behaviors, and forms on different platforms; and what elicits user engagement with the news. Tenenboim's work has been published in New Media & Society, Digital Journalism, Journalism, Journalism Studies, Social Media + Society, Journalism Practice, International Journal of Communication, as well as in edited books.
Kshitij (KJ) Sharan
Kshitij Sharan is the Strategy and Operations Lead at the Centre for the Study of Democratic Institutions (CSDI) at UBC. He has a Masters in Public Policy and Global Affairs from UBC and a BA in Economics and Political Science from McGill University. His work has ranged across sectors of education, water and sanitation, menstrual hygiene, gender equity, child protection and social entrepreneurship. He has been a founding member of medium to large scale non-profits and social enterprises in India, which has allowed him to engage deeply with decision-makers including ministers, parliamentarians, CEOs and communities. He was a founding member of one of India's largest digital advocacy organizations, Global Citizen India, which uses the collective voice of the youth to hold decisionmakers accountable and accelerate the achievement of the SDGs. Kshitij has also managed a political campaign during the 2019 Indian National Election and led strategy for an anti-trafficking organization in India. He is a Khemka Fellow, a StartingBloc School of Social Innovation Fellow and a Fellow at the Global Social Change Leadership Institute at the Wagner School of Public Service, New York University. For more, see https://www.linkedin.com/in/kshitij-sharan-229ab9104/.
CSDI Policy Communications Workshop Series
Policy intersects with almost every academic field. Many research or knowledge products can effect greater change if they are also communicated to non-academic audiences in the policy world. CSDI will manage and conduct an integrated series of six workshops across UBC to help students, faculty, and staff communicate their research effectively to stakeholders for policy change.
Do you ask yourself any of the following questions as a member of the academic community at UBC?
How can my research create impact in the real world?
My research is technical. How will I communicate to important stakeholders and decision-makers, including the general public, so that it is used constructively?
How can I include policy communication in my grants?
What are the best policy communications vehicles to reach people?
Who can help me to write new genres and format them attractively?
If YES, then the CSDI Policy Communications Workshop series is for you! The policy communications workshop series is a component of the CSDI Policy Communications Consulting Clinic (CPCC).
What is CPCC?
The CSDI Policy Communications Clinic is a service for the policy communications and policy impact needs of students, staff, and faculty at UBC. CPCC offers workshops and individualized consulting hours to help develop policy communications products.
Read more about CPCC here.
About the Organizers
What is CSDI?
The Centre for the Study of Democratic Institutions (CSDI) is part of the School of Public Policy and Global Affairs (SPPGA) at the University of British Columbia (UBC). It aims to advance interdisciplinary publicly-engaged research, teaching, and dissemination of knowledge about innovation in democratic practice and institutions. CSDI leads and participates in projects at the local (BC), national (Canada), and international levels.
Our interdisciplinary work seeks to:
Understand the past;
Analyze the present;
Train for the future.
Read more about CSDI here.
What is the Knowledge Exchange unit?
The UBC Knowledge Exchange team is part of the UBC Innovation Hub in the Vice President's Office for Research and Innovation. We aim to build capacity among researchers, students and staff across disciplines to develop and share impactful knowledge through connections and exchange with communities, government, not-for-profit organizations and the general public.