Description
On April 1st, Don't Fool Around! Learn the Right Way to Use Social Media... A Workshop Presented by the Canadian Media Guild Freelance Branch
When: Saturday, April 1st from 9 a.m. to 4 p.m.
Where: Vancouver Film School, 306 Abbott Street, Vancouver, BC V6B 2K9
Admission: This event is free for CMG Freelance members. Non-members can gain admission for $150, which also includes a year-long CMG Freelance Membership. Members of affiliated organizations can attend at a discounted rate (see below for details). You can also become a member for just $15/month.*
Are you currently using social media to get your name and freelance profile out there but not seeing the results you want? Are you just getting started with social media and not sure what to do? Social Media is more than just another channel, tactic or public billboard. Social media is a critical part of your marketing and communication plan. So how do you harness social media to grow your influence, find new opportunities and engage with your potential clients to create a strong following?
This will be a hands-on workshop, where we will cover:
Setting up, optimizing and utilizing your Facebook, Twitter and Instagram accounts so you can create content that gets more exposure and results
How to build an engaging following on Facebook, Twitter and Instagram.
How to best use hashtags, contests, ads and promotions, and
The best practices and the do's, don'ts, tips, tricks, advice and strategies to manage, maintain and grow your following.
During this workshop we will be inviting a few participants to share their social media accounts, for a live and interactive discussion on ways to improve their online marketing.
This workshop will be led by Katt Stearns, the founder of Katt Stearns Consulting. She has worked with numerous small and medium sized organizations helping them develop marketing strategies that help them share their stories and grow their organizations. Katt is the recipient of the 2015 Canadian Digital Marketer of the Year Award and was also nominated for the 2014 British Columbia Small Business Emerging Entrepreneur of the Year. You can connect with Katt on Twitter at @KattStearns.
Did we mention that lunch is included?
*Members of our like-minded associations such as TMAC, PWAC, and CWA Canada Associate Members are eligible for significantly discounted admission and memberships. Contact Don Genova for details on the discount at don@dongenova.com.
CMG Freelance members can simply register for this event with your membership number. Non-members must purchase a membership first by going to our website. Then you can come back here and register for the workshop, using 'New Member' in place of the membership number. All registrations will be individually verified.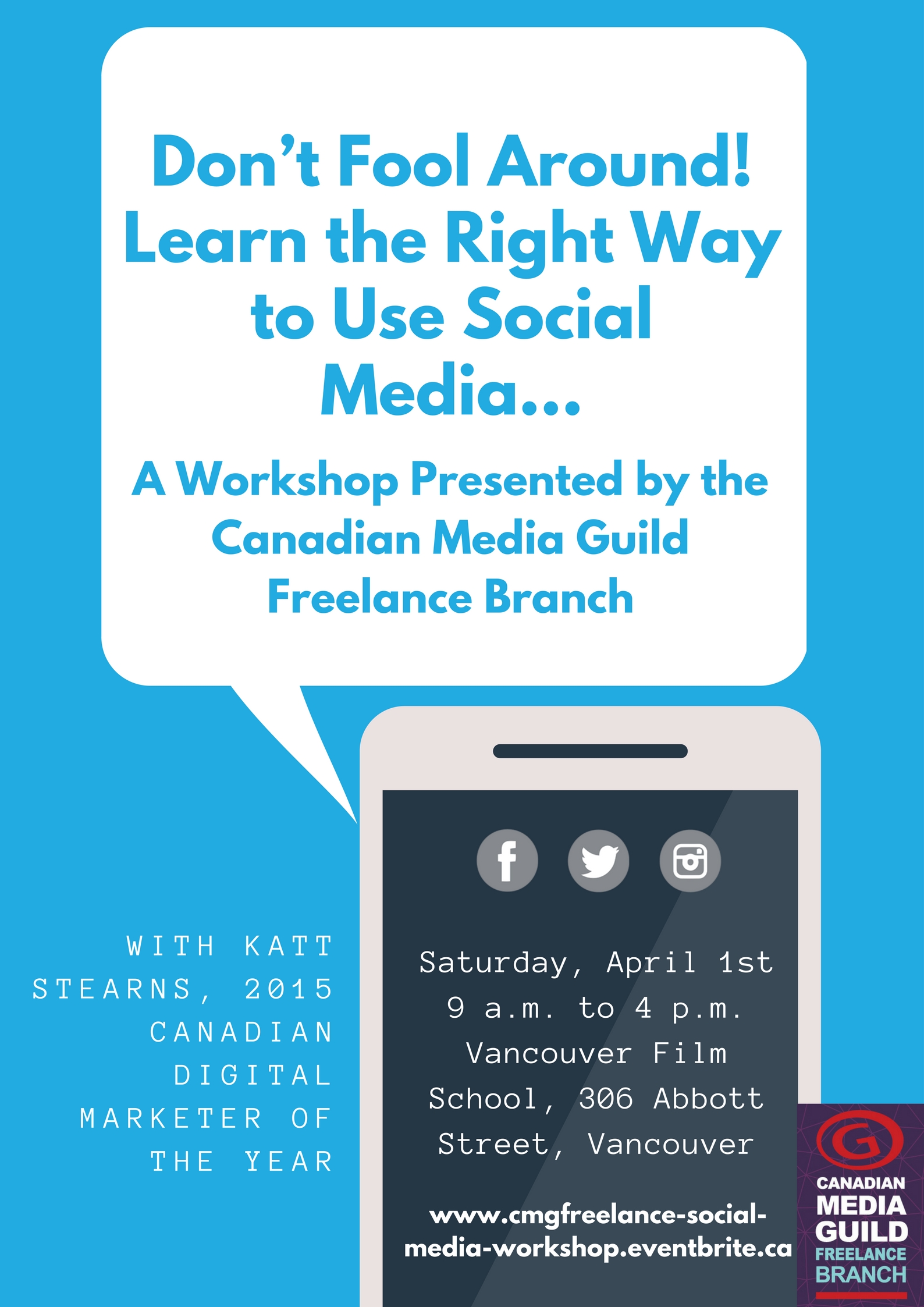 Organizer of Social Media Workshop by CMG Freelance
CMG Freelance is the Canadian Media Guild's voluntary membership for freelancers, designed to help fill the growing gaps in social security and workforce supports that are hallmarks of today's harsh economy. CMG Freelance also represents self-employed journalists who contribute on a freelance basis to the CBC.
CWA Canada Associate Members is a community dedicated to connecting student, volunteer and precarious (intern, temporary, part-time) media workers to each other, and to the resources they need to realize their creative and career goals.