Description
Social Media - Breaking Through the Noise and Confusion
In this introduction to social media Janice Waugh will explain how social media integrates with traditional marketing, clarify how the various social media platforms function and explain the pros and cons of each. She will also listen to your business goals and suggest which platform might be a useful priority in your marketing plan. Bring your own computer and get started or improve your social media platform at this workshop.

A light dinner will be served at this event. Join us to network with women business owners in Toronto.
Janice is the publisher of Solo Traveler, the blog for those who travel alone. Her Facebook page, the Solo Travel Society, has over 150,000 fans. She has 36,000 followers on Twitter, almost 10,000 on Pinterest and over 5,000 on Instagram. She also uses LinkedIn, Periscope and Google+. Social media is the foundation of her blog's success.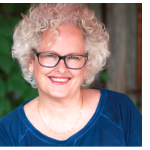 Janice Waugh
Author: The Solo Traveler's Handbook
Blog: Solo Traveler
Facebook: Solo Traveler Society
Join 20,000+ solo travelers who receive the Solo Traveler Newsletter and Solo Traveler Deals Advisory every month.