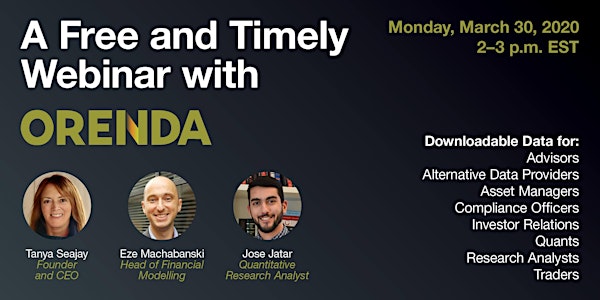 Social Positioning while Social Distancing
Description
Join Us at https://tinyurl.com/w7g7kxc
The event is 60 mins in length.
Learn how to use Orenda's unique data in the following ways:
Traditional Research
Add Orenda's Social positioning data into behavioral asset pricing models as one input, combined with traditional financial data. Also, use Orenda data to develop your own proprietary Social Positioning Scores
Quantitative Research
Leverage years of historical Social Positioning Scores, combining daily, quarterly and annually fields to identify Social Positioning factors that may impact a company's performance over the long and short-term. Correlate company scores with its peer group, and quickly identify those companies that are out of alignment with its peers.
Portfolio Allocation
Leverage Social Positioning Scores to select companies that outperform on social values and commitments (high degrees of trust, customer satisfaction, and corporate social responsibility).
Risk Management
Asses material business risks, like reputational, social, governance and environmental concerns that trigger strong emotional responses online.