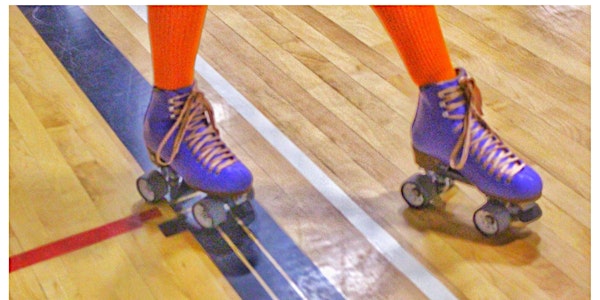 SOCIAL ROLLERSKATING: OTTAWA QUAD SESSION (February-March-April-May)
Location
Norm Fenn Gym - Carleton University
1125 Colonel By Dr.
Ottawa, ON K1S 5B6
Canada
Sales Have Ended
Ticket sales have ended
We do this weekly at Carleton U! Join us anytime! https://www.facebook.com/ottawaquadsession
Indoor recreational rollerskating for everyone. We skate to tunes. Welcome to our February- March- April-May Sessions.
About this event
JOIN US FOR OUR WEEKLY RECREATIONAL SKATE
Ottawa Quad Sessions are all about fun on eight wheels. Any style, all levels, no instruction, lots of watch-and-learn. We quad to tunes. Always.
---
MAY 1st UPDATE
Carleton University is suspending vaccination attestation and self-screening reporting.
The mask-on at all times (no exception) during the session remains in effect.
---
We're absolutletly ecstatic to be resuming the sessions for our members and have drop-ins join in, as always. Do bear with us though, as adapting to pandemic conditions necessarily means a few tweaks. PLEASE READ THROUGH #1 TO #6 BELOW .
1. NEW E-TICKETING POLICY:
Each adult skater must purchase their own ticket. There is no multiple-admission ticketing option (on adult tickets) and we will need to cancel any single ticket transaction where an admission is being purchased for someone else.
Only parents/guardians can purchase for their own youths. (under 18 y.o.) You can not purchase for another person's child.
The context: Waivers now need to be online as part of the admission process and you cannot legally consent on behalf of someone else: our insurance provider will have none of it! Each adult admission must bear the name of the person actually skating, who must be the one providing consent to the waiver. As bolded above, each adult skater must purchase their own admission. This means a few more clicks for you, but this is how we get to skate and keep things manageable for our volunteers.
2. COVID-19 PROTOCOLS: PLEASE READ CAREFULLY BEFORE TICKET PURCHASE
OTTAWA QUAD ROLLERSKATING CLUB'S COVID-19 PROTOCOL APPLIES:
Mask on (properly fitted face covering) at all times.
Limited capacity (currently 50).
CARLETON ATHLETICS' COVID-19 PROTOCOL APPLIES TO ALL ATTENDEES:
Please follow the updated step-by-step instructions provided by Carleton Athletics and take care of the following:
1) Create a cuScreen account;
2) Upload your attestation of full vaccination;
3) Fill out a COVID-19 Screening Self-Assessment on the day of the event;
4) Once on location, scan the QR location code displayed in the hallway. This will bring up your cuScreen account, which you will need to show to an attendant.
The Ottawa Quad Rollerskating Club cannot assist with cuScreen enquiries. All questions to be addressed to: covidinfo@carleton.ca . We cannot provide refund if you fail to be granted access to the building. All requirements above also apply to Québec residents who hold a passeport vaccinal.
We very strongly recommend that you take care of # 1 (cuScreen account) and #2 (full vaccination attestation) BEFORE YOUR TICKET PURCHASE and that you fill out your daily self-assessment (#3 above) BEFORE heading to the gym. Expect delays at the door otherwise.
3. ADMISSIONS
Admission is strictly online, through Eventbrite. No cash at the door.
Remember, we will be running at reduced capacity. Book early!
Admission does not include skate rentals.
Adult admissions are individual sale only (no group purchases).
Admission for junior skaters (-18) must be purchased by a parent or guardian, clearly identified as such on the order form. The parent or guardian must be the individual signing off on the Waiver and Release.
All skaters under 12 must be accompanied by an adult ticketholder on skates.
All skaters under 18 must wear a helmet.
4. RENTALS
Skate rentals must be booked as an add-on ticket.
Skate rentals must be booked no later than 24 hours before the event (commonly Thursday by 9 pm) so that our volunteers can retrieve them from storage.
Rentals are approximately shoe sizes (no half sizes).
It is always advisable to bring a pair of thin and thick socks just in case as there are often no extras to swap sizes. Please wear socks regardless!
5. REFUND POLICY
Refunds will be considered for COVID-related illness if requested within 24 hours after the event. No exception.
Admissions and rentals are otherwise non-refundable, non-exchangeable, and non-transferable.
We kindly remind attendees that following Carleton Athletics requirements for accessing the venue is their responsibility. We cannot provide refunds in the event of a denied access. We strongly recommend that all attendees familiarize themselves with these requirements before purchasing admission.
6. KEEPING IT SAFE
Head and limb protection is strongly recommended for all. Youth skaters (-18) must wear head protection.
Safe Skating Code in effect (to be acknowledged when booking admission).
COVID-19 protocols in effect (to be acknowledged when booking admission).
ABOUT THE VENUE
The Norm Fenn Gymnasium is located in Carleton Athletics' Ice House Building, off University Road
The gymnasium is a full-size basketball court (wooden floors).
There are no locker rooms or coat checks on the premises.
Parking is available in the Carleton University lot adjacent to the Ice House and at Brewer Park across Bronson.
ABOUT THE OTTAWA QUAD ROLLERSKATING CLUB
We're volunteer-run, we're non-profit, we're fun-driven!
We also go by the name of OQS (Ottawa Quad Session), the weekly events we put together.
We run a year-long program of recreational rollerskating for our membership and whoever wants to drop in for a spin. We quad weekly on Fridays and throw in a number of roller parties throughout the year for good measure (and fundraising!) Levels don't matter. All are welcome. No instructions but always lots of watch-and-learn. We only skate to tunes. Rentals are available for some events.
Quads in OQRC stands for rollerskates but we won't bite if you inline retro 90s style.
Email is how to get in touch: ottawaquadsession@gmail.com.
What we do is only possible thanks to our beautiful volunteers (yellow shirt peeps). If you want to yellowshirt with us, please do reach out.