Modules Package 5 | Become a Social Media Specialist
About this event
9 Evening Sessions from May 17th – June 17th
Apply By: May 16th 2021
Social Media is now an essential component of any marketing or advertising plans. The world of social media can be confusing, but knowing the basics of how to build a social strategy and how best leverage your network will help improve business growth and brand recognition.
How it works
3 - 4 module courses
Feedback sessions
Virtual, online classes with industry professionals
What you get
Become an expert, add foundational knowledge & skills in one area
27-36 hours of class
Digital Badge Certification
Access to M.AD School of Idea's international network
Advertising's industry connections
*Please note Job Grant applications need to be submitted 2 weeks in advance start of the program.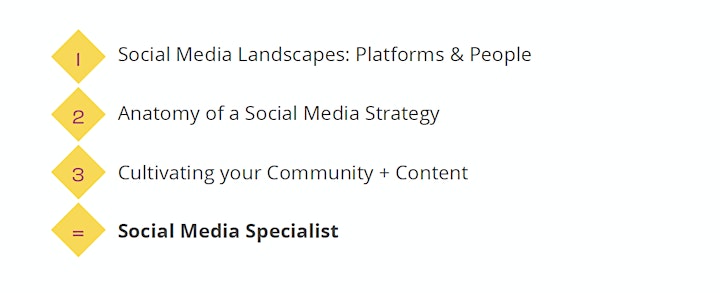 This package includes 3 skill-building modules:
Module 1: Social Landscapes: Platforms & People
Understanding the role of social media in marketing starts with a foundational education prominent platforms. This module will cover the role of social in modern communications, top social platform functionalities & user behaviour.
Dates: May 17th, 18th, 27th
Instructor: TBA
Module 2: Anatomy of a Social Media Strategy
Learn how to develop a content strategy built for a multi-faceted world using the 4Cs and a social media framework which inform how your brand looks, talks and shows up.
Key Takeaways
Core components of a social media strategy
How social media can support certain objectives
Strategy vs. Tactics
Considerations for an adaptive campaign vs a social media exclusive campaign
The importance of integration and connection planning in social

Dates: May 25th, 26th, June 3rd
Instructor: TBA
Module 3: Cultivating your Content & Community
Social media has the power to transform a shared interest into a powerful community through content. The community manager is the key to curating elements that inspires connection and interaction between brand and person.
Key Takeaways
Community Management 101: brand voice vs. service rep and brand handle hygiene
Understanding of the types of community management tools & terms (CMS, chat bots, automated messaging, surprise & delight, escalation matrix)
Customer relations strategies
Identifying organic creative opportunities within the community
Developing an escalation matrix
Dates: June 7th, 8th, 17th
Instructor: TBA


Organizer of Social Strategy Fundamentals