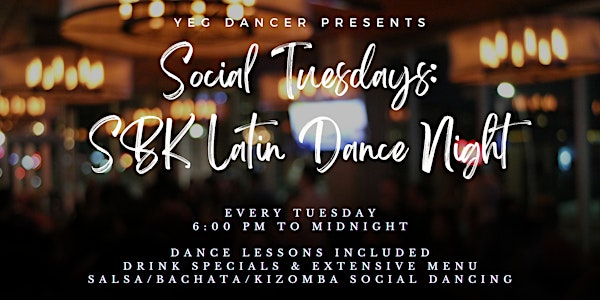 Multiple dates
Social Tuesdays: Salsa Bachata Kizomba (SBK) Latin Dance Night
Every Tuesday, come chill, socialize, learn new dance moves, and dance with us until midnight at a beautiful Edmonton venue! :)
By Irina Feldesh Latin Dance Edmonton
Date and time
Tue, Sep 20, 2022 7:30 PM - Wed, Jan 3, 2024 12:00 AM MDT
Location
Central Social Hall 10909 Jasper Avenue Edmonton, AB T5J 3L9 Canada
About this event
SUMMARY
Latin Dancing (Salsa, Bachata, Kizomba) every Tuesday night!
Meet & Greet, 6:00 pm to 6:30 pm
Dance Lessons, 6:30 pm until 9:30 pm*
Social Dancing, 9:30 pm until 11:00 pm*
*See FAQ for a detailed schedule of the offered classes and specials workshops included in your entry. Entry fee is $5 early bird (advance purchase via Eventbrite) or $10 at the door (cash only, paid upon check-in to the private event space).
Location is subject to change when conflicts occur and we will notify our attendees when this happens. Tuesday, March 28th is one of those nights where we will be hosting the event at MKT Fresh Food | Beer Market, 8101 Gateway Blvd NW, Edmonton, AB.
FAQ
Who is the intended audience for this event?
Do you love dancing and/or Latin music? Are you ready to meet new people and be part of a welcoming community that celebrates diversity? Then this is the night for you!
New to partner dancing? No worries! Just ask us to show you the basics of Salsa, Bachata, and/or Kizomba.
Don't have a partner? No problem! We typically rotate throughout the night in both the dance lessons and social dancing with many dancers coming alone. Let your partner know you are a beginner and we will make sure you come away with a positive experience.
Can you tell me more about these dances?
SALSA
Salsa is a partner dance with roots in Latin and African cultures. There are many different styles of Salsa being danced around the world with the most popular style in Edmonton being LA Style (On1) Salsa. It is by far the most energetic of the three dances and is highly popular in Latin American countries.
BACHATA
Bachata is a partner dance and musical genre that originated in the Dominican Republic. Over the years, Bachata has evolved into many different sub-styles which fuse elements from Salsa, Brazilian Zouk, Tango, Ballroom, and/or Hip Hop. While Traditional Bachata continues to be danced around the world, the most popular style in Edmonton is Modern Bachata.
KIZOMBA
Kizomba is a partner dance and musical genre that originated in Angola. In recent years, it has become increasingly popular around the world and is now a staple at most Latin dance socials in our city, so knowing the basics of this dance style will ensure you are able to dance all night long at SBK events. It is typically the slowest and most chill of the three dances.
What is this event like?
Every Tuesday, we will have beginner Latin dance lessons with an experienced instructor on-site to help those new to partner dancing. Periodically, we will feature guest instructors for special workshops (included in your cover), so don't miss these unique opportunities to learn from a variety of instructors. Following the dance classes, we will have a Salsa/Bachata/Kizomba (SBK) afterparty where you can apply your newfound skills.
During the Salsa/Bachata/Kizomba (SBK) Afterparty, DJ Irina will keep you dancing all night with a music ratio of 3 Bachata, 2 Salsa, 2 Kizomba. There will be a mix of Sensual Bachata, Modern Bachata, and Traditional Bachata.
While you are here, be sure to check out the drink and food offerings, including happy hour specials (these vary by venue, see the menu links below).
How much does it cost?
Cover for the Social Tuesdays event is $5 early bird (advance purchase via Eventbrite) or $10 at the door (cash only, paid at the bar), which includes both the dance lesson/workshop and social dancing.
We also encourage attendees to support the venue through food/drink purchases to ensure the night remains viable.
When does the event start/end?
Tuesdays, 6:00 pm to midnight
What is the event schedule?
Meet & Greet, 6:00 pm to 6:30 pm
Bachata Workshop (Open-Level), 6:30 pm to 7:30 pm
Salsa & Kizomba Beginner Lessons, 7:30 pm to 8:30 pm
Guest Instructor Workshop*, 8:30 pm to 9:30 pm
Salsa / Bachata / Kizomba Social Dancing, 9:30 pm to 11:00 pm
*Check the current week's poster for more information on the guest instructors. Once a month, instead of a guest instructor workshop we will have guest performers (mini-show) and the social dancing portion will start earlier than normal.
Where is this event?
We work with a variety of venues for this event (Jasper Ave and Whyte Ave Areas) as due to the popularity of the restaurants/bars we book, conflicts with larger events are always a possibility. Therefore, we encourage all attendees to get their tickets in advance to stay in the loop regarding last minute location changes. If you plan to pay for your ticket onsite, make sure to check the event a few hours before.
MKT Bar + Fare Whyte Ave
8101 Gateway Blvd NW, Edmonton, AB
Drinks and food must be ordered by 10:30 pm.
Full Menu: https://centuryhospitality.com/mkt/
All our guests need to do for FREE parking is register their license plate with the MKT app. They have signage in the parking lot with directions and also the MKT staff can help register people if they encounter issues with the app.
The Pint Downtown
10125 109 St NW, Edmonton, AB
North side of Jasper Ave and main entrance is facing 109 Street.
Drinks can be ordered all night, food must be ordered by 10:45 pm.
Full Menu: https://downtown.thepint.ca/menu/
All our guests are eligible for FREE parking at The Pint's parking lot (at the back). As you enter the venue, there is a QR code at the door which you can scan to register your vehicle (also on tables throughout the venue).
Central Social Hall Downtown
What are the upcoming guest instructor workshops?
Upcoming guest instructor workshop schedule (subject to change):
Tuesday, April 4, 2023 - Shuffling @ CSH
See our YEG Dancer Facebook Page or Dance Events Listing for more information.
Do I need to bring a partner?
We rotate partners throughout the dance class and the social dancing portion, so we have lots of singles that come out to the events and you do not need to come with a partner. These events are great for both meeting new people as well as a date night.
If you do come with a partner, you have the option not to rotate, though we highly recommend that you do to fully take advantage of the social aspect of the event as well as to enhance your learning experience during the dance classes.
What should I wear?
You can choose to dress up or not, but make sure what you wear is comfortable enough to dance in (not too tight, not too short, not too warm, allows you to move your arms, hips, torso, and rest of the body easily, not a tripping hazard, etc.).
Latin Dance shoes are recommended, but not required. Any clean pair of shoes that is comfortable and not grippy on the floor will work (dress shoes, Fuego sneakers, Taygra sneakers, leather soled ballet flats, suede soled jazz shoes, Toms, etc.).
Note that some workshops, such as any of the hip-hop styles, may be more comfortable to dance in flat soled shoes, so it's a good idea to either bring a pair or check with us beforehand.
We recommend bringing a pair of clean indoor shoes for dancing during the winter months as the dirt/snow/rocks from the outdoors can wreak havoc on other dancer's suede soled shoes.
Are there promotions for first time attendees?
First time attendees of the Social Tuesdays event can use promo code 5OFF at checkout on Early Bird Tickets (Limited) to get free entry to the event. Limit one per customer. When using the promo code, ensure each attendee purchases their ticket individually through Eventbrite at least 24 hours prior to the event start time (note that due to the popularity of our event, the early bird tickets usually sell out quickly).
Is there anything else I should know?
While we encourage everyone to arrive early, especially if you wish to participate in the dance lessons, dancers are welcome to join the dance class and social dancing portion of the night as they arrive. This is a safe space, so do as much or as little as you are able -- no judgment.
Anyone can lead and anyone can follow, all we ask for is that you stay in your chosen role for the duration of the dance class to ensure you don't miss important details and assist in maintaining order during partner rotations. During the social dancing portion, dancers are welcome to switch between the lead and follow roles, but make sure you are clear with your partner regarding which role each will have during a specific song as only one of you can lead at any given time.
Rotating partners is highly beneficial to both leads and follows, however, if you arrived with a partner and wish not to rotate during the dance lesson/workshop, simply let the instructors know at the start of the class.
What if I have more questions?
If you have any further questions, feel free to reach out via Eventbrite prior to the event start time.
Demos of the Feaured Partner Dances: