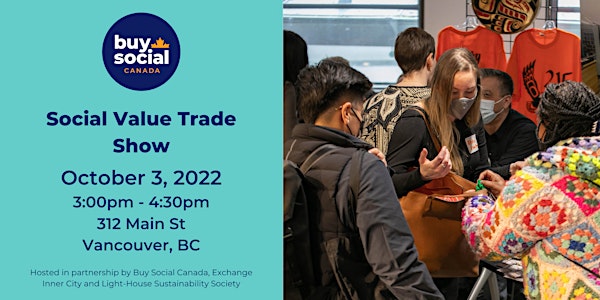 Social Value Trade Show
The Social Value Trade Show will showcase social value suppliers and connect them with purchasers from the construction sector.
When and where
Location
312 Main St 312 Main Street Vancouver, BC V6A 2T2 Canada
About this event
The Buy Social Canada Social Value Trade Show is an event to showcase social value suppliers in our network and connect them with potential purchasers from the construction sector. It will take place on Monday October 3rd, 3:00 - 4:30pm, at 312 Main in Vancouver.
Why should you come?
Purchasers, this is an opportunity to meet social enterprises, social value suppliers, diverse owned businesses, B-Corps and other organizations that meet social procurement and community benefits agreement criteria.
Suppliers, connect with each other, grow your business, and find potential contract opportunities in the construction industry.
Why are we hosting this event?
Many purchasers are looking to create social value in their projects.
We know the construction sector is interested in practising social procurement. This event can help connect social value suppliers with purchasers, making it easier for everyone to buy and sell with impact.
Locally, the City of Vancouver Community Benefits Agreement Policy has specific targets that a large redevelopment project must procure 10% of the dollar spend on materials, goods and services from social and/or third-party certified suppliers.
The Social Value Trade Show is an opportunity to meet with organizations interested in implementing social procurement and those that can help you meet your organizational social value goals.
Social value suppliers that are participating at this event include:
We look forward to connecting with you soon.
This event is hosted by Buy Social Canada, in collaboration with Exchange Inner City and Light-House Sustainability Society.
To stay up to date on other Buy Social Canada events and social procurement news, subscribe to our newsletter.