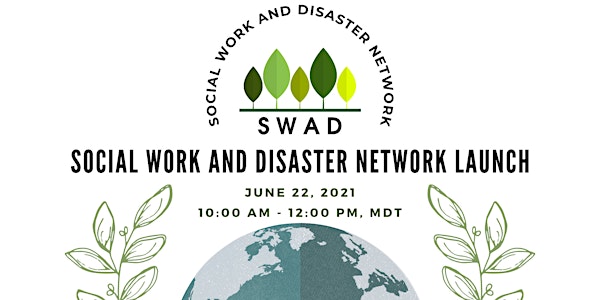 Social Work and Disaster (SWAD) Network Launch
Register today for the launch of the Social Work and Disaster (SWAD) Network, co-chaired by Bonnie Lewin, MSW and Dr. Julie Drolet.
About this event
This event marks the launch of the SWAD Network. In Alberta, we have seen disasters increase in both frequency and intensity in the last decade. This province has experienced two of Canada's most costly disaster events, the 2013 flood in Southern Alberta and the 2016 wildfires in Northern Alberta. Social workers and social service professionals are increasingly involved in all stages of disaster management.
The SWAD network aims to build capacity and create awareness of the role of social workers and social services professionals in disaster contexts. The network contributes to building a more resilient, inclusive and sustainable society while reducing inequalities and vulnerabilities in Alberta.
The event will include a keynote presentation by Dr. Lena Dominelli, Chair of Social Work and Programme Director, Disaster Interventions and Humanitarian Aid, University of Stirling, Scotland, titled Green Social Work: Responding to the Challenges of COVID-19. This presentation will be followed by a panel discussion on the role of social workers in disasters, with panelists, Dr. Robin Ersing (USA), Dr. Amy Fulton (Canada), Dr. Golam Mathbor (USA), Dr. Miriam Samuel (India) and a presentation from the network co-chairs on the research findings on disaster social work in Alberta.
This event is hosted in partnership with the Transforming the Field Education Landscape (TFEL) project.