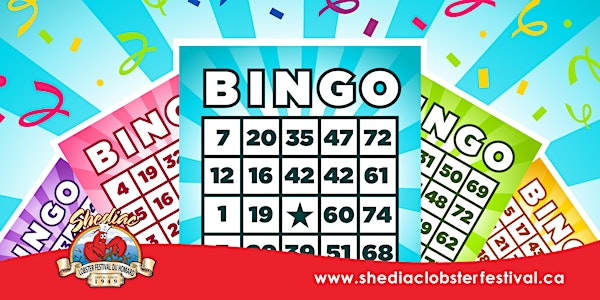 Soirée BINGO Night
Soirée Bingo, une soirée de divertissement en famille! Bingo Night, a night of family fun!
By Shediac Lobster Festival Homard de Shediac
Date and time
Tue, Jul 4, 2023 7:00 PM - 9:00 PM ADT
Location
Centre multifonctionnel de Shediac / Shediac Multipurpose Centre 58 Rue Festival Shédiac, NB E4P 1S4 Canada
About this event
**English to follow
Préparez-vous pour une soirée de Bingo au Centre Multifonctionnel de Shediac! Préparez-vous pour une nuit remplie d'excitation, de rires et de rivalité amicale en compagnie de votre famille et de vos amis.
Réservez votre place dès maintenant pour garantir votre présence à cet événement fantastique. Vous aurez l'opportunité de gagner des prix incroyables!
Vous pouvez acheter votre billet pour l'événement à l'avance sur Eventbrite ou à la Coopérative de Shediac pour 15 $ + taxes et frais, ce qui réserve votre place et votre paquet de carte initiale. Le jour même vous pourrez présenter votre billet et récupérer vos cartes de bingo OU acheter vos cartes le jour de l'événement pour 20 $ s'il reste des billets. Vous pouvez également acheter des cartes de surplus pour votre partie le jour de l'événement. Les billets seront disponibles à la Coopérative de Shediac à partir du 5 juin.
*Des marqueurs de bingo seront disponibles sur place
______
Get ready for an exhilarating Bingo Night at the Multifunctional Center in Shediac, NB! Prepare yourself for a night filled with excitement, laughter, and friendly rivalry as you gather with family and friends.
Book your spot now to guarantee your attendance at this fantastic event. You will have the opportunity to win amazing prizes!
You can purchase your event ticket in advance on Eventbrite or at Shediac Coop for $15+tax and fees, which reserves your spot and includes your initial bingo card pack. On the day of the event, you can present your ticket and collect your bingo cards OR purchase cards at the event for $20 if there are any tickets remaining. Additionally, you can buy extra cards for your game on the day of the event. Tickets will be available at Shediac Coop starting June 5th.
*Bingo dabbers available on site
About the organizer
Shediac Lobster Festival Homard de Shediac 
Le Festival du homard de Shediac célèbre cette année sa 73e édition. Depuis 1949, la ville de Shediac accueille à chaque année plus de 30 000 personnes à travers le monde entier. Des manèges, des concerts, dégustation de homard et de vin, cet événement de 10 jours a quelque chose à offrir pour tous les membres de la famille.

...
The Shediac Lobster Festival is celebrating its 73rd anniversary this year. Since 1949, the town of Shediac has welcomed more than 30 000 people from all over the world to the Festival grounds each year. From rides to concerts to lobster and wine tasting, this 10-day event has something for every member of the family.