Soirée Blanche - St Tropez at Cabana Pool Bar

Tuesday, 27 August 2019 from 6:30 PM to 11:00 PM (EDT)
Event Details
UPDATE
Good morning!
Despite the rainy weather, the Soirée Blanche is still on!
We booked a beautiful venue adjacent to Cabana Pool - Noir Room at Rebel. Our fantastic Dj Chris Laroque will set the mood and make this evening memorable. Don't forget the 'all white' dress code. See you all tonight! 
----------
Exclusive access to Cabana Pool Bar for our guests only! /Discounted featured drinks /Catering by O&B will be available to purchase food /Become a yearly member and get 4 tickets for FREE + Prioriy access + Reserved Cabanas (https://aperochic.ca/membership/)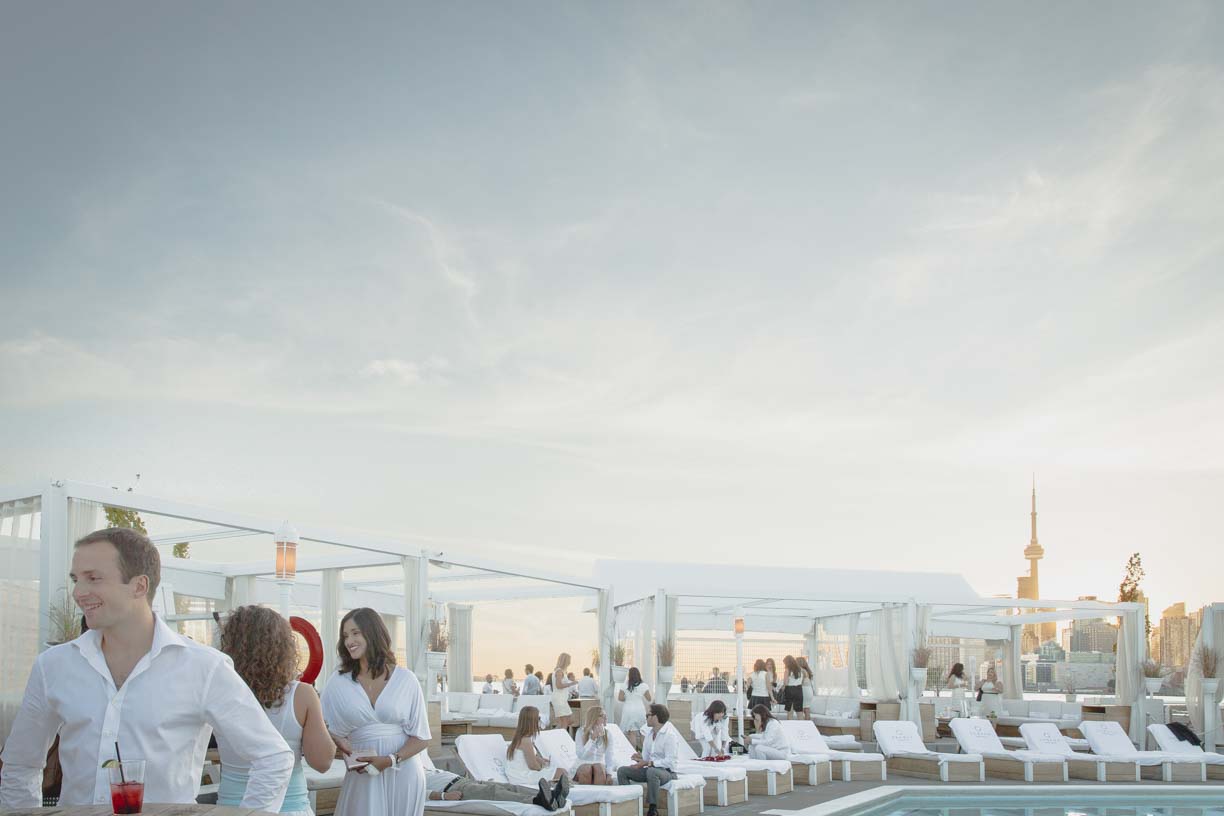 We are so excited because this year again, we have the opportunity to go back to our favorite summer venue, the beautiful Cabana Pool Bar! We know you are excited too!

Be ready: ApéroChic team is bringing the French Riviera vibe to Toronto. On Tuesday, August 27, 2019, together let's enjoy another glorious white summer evening.
Most of you know the drill: to celebrate this event in style and with respect to the tradition born in St
Tropez, (a little and famous Mediterranean village in south east of France), we ask our guests to dress in WHITE and white only. (Exception is made for shoes. Trousers have to be white or light colour).
The concept was created by the French millionaire Eddie Barclay in the 80's and since then has spread around the world.
Bring friends and get ready to dance and experience "la joie de vivre". To feel, for a summer night only, far away from Toronto, somewhere between Niki Beach and Club 55 the two most famous beaches of St Tropez.
In case of rain, we have a backup venue located next to Cabana Pool Bar: Noir Room

Cabana is located right on the lake (east side – near Cherry Beach) and offers a stunning view of both the city skyline and the Toronto Islands.

ApéroChic has reserved the pool area privately; we ask our guests to refrain from using the pool and simply enjoy the elegant cocktail evening that our team has worked hard to provide our honoured members.

Dress code : WHITE ONLY (no swimming suits - it is a fully dressed elegant evening).Guest list enforced – Pre-sale ONLY - Cash Bar – DJ.

Free for yearly member with priority check and 3 guest tickets. Want to become a member? (https://aperochic.ca/membership/)

Feel free to engage with our social media before and during the event and spread the word.
Instagram: @aperochic
Twitter: @aperochicTO

PHOTOGRAPHY:

Please note a photographer & camera crew will cover the event. If you do not wish your photo to be taken please tell the photographer & camera crew.

REFUND POLICY :

Tickets are refundable up to 7 days prior the event. In case of rain, we have a backup venue located next to Cabana Pool Bar: Noir Room

AperoChic Team
When & Where

Noir Room
11 Polson Street
Toronto, ON M5A 1A4
Canada

Tuesday, 27 August 2019 from 6:30 PM to 11:00 PM (EDT)
Add to my calendar
Organizer
 About:
Apérochic: An after-work experience with a French Twist.
With 10 000 urban professional members and a range between 300 to 1500 attendees per event, Apérochic is the best cocktail party in town, held monthly at Toronto's most interesting downtown venues.
In France, any good evening gathering begins with "l'apéritif,"An opportunity to share a glass of champagne or a cocktail with friends, L'Aperitif is an essential part of French social culture. Apérochic delivers the classic French tradition to a diverse Toronto membership, offering monthly social gatherings to meet and reunite with friends.
 Events:
Each month The ApéroChic Team choose a unique downtown Toronto venue to host unique, creative and entertaining events for the Apérochic membership. Some of the previous events have been held at The Spoke Club, Lavelle, Casa Loma, The Thompson Hotel Rooftop, Cabana Pool, La Société, Brassai, Spice Route, Cube, C Lounge, the Courthouse, among other venues.
Our Apérochic events reflect our Toronto membership: we welcome people from all over the world, who find themselves for one reason or another in Toronto and who are interested in French culture. All of our events are bilingual – and French is not required – but they offer excellent opportunities to practice the language! Simply put, Apérochic events are the place to meet new, interesting people in an always-sparkling atmosphere.
 Community:
Thanks to terrific word-of-mouth, the Apérochic community has grown steadily and organically.
 This is by no means an exclusive francophone group, but rather a membership of urban professionals (from such industries as communications, finance, diplomatic and government, design and fashion) who are interested in a sophisticated, European style of meeting and mingling.
Refund Policy:
Some of our events have cover. Any order can be refund up to 7 days prior to event.


Facebook: www.facebook.com/aperochic.canada
Meetup: www.meetup.com/aperochic .