Description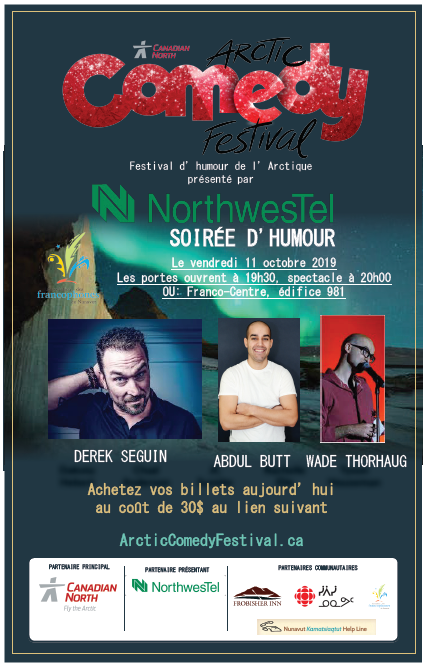 Derek Seguin
Né à Montréal, Derek Seguin est un humoriste qui prend les activités de son quotidien et les présentes d'une façon qu'on ne peut éviter de les trouver à la fois, drôles et aussi très familiers.
Ayant jusqu'à maintenant participé au festival Just for Laughs à Montréal (10 fois) faisant partie du line-up des Galas HBO et du prestigieux Nasty Show à deux reprises , le Global Vancouver Comedy Festival, le Island Comedy festival à l'île du Prince Edward, le CBC Winnipeg Comedy festival (où il a fait des spectacles en anglais et en français à ces deux derniers), ComédieHA! à Québec et au CBC Ha! Halifax Comedy Festival où il enregistra plusieurs spectacles pour la télévision; Derek vient tout juste de gagner le grand prix de Canada's Top Comic à Sirius XM ou il remporta le prix de 15 000$ ainsi que des spots garanties aux festivals Just for Laughs à Montréal et Toronto ou il présentera son one-man show à 7 reprises cet été. Vous pouvez aussi l'entendre souvent en tant que contributeur régulier à l'émission The Debaters à la radio CBC.
Abdul Butt
Abdul Butt est reconnaissable pour ses entrevues télévisé sur les ondes du CBC dans l'emission, This Hour Has 22 Minutes, et pour ses débats humomristique diffusé sur Sirius XM et CBC Radio dans The Debaters du CBC. Il a récemment vendu une série web choisie par Kevin Hart au festival Just Pour Rire pour son nouveau réseau «Laugh Out Loud» en collaboration avec Lionsgate Films. Son humour lui a valu des nominations pour le Canadian Comedy Awards et pour le Writers Guild of Canada Award.
Wade Thorhaug - animateur local
19 ans et plus