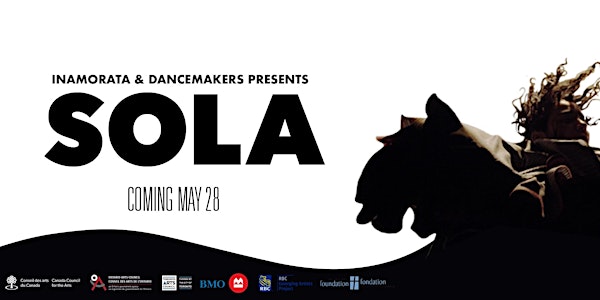 SOLA
Inamorata & Dancemakers Presents SOLA
About this event
SOLA is a contemporary and flamenco dance film created by Inamorata Dance Collective. It is a solo work by Sofí Gudiño, with musical composition by Ana Lía Arias Garrido and Benjamin Barrile, directed and filmed by Roya DelSol.
Exploring the theme of solitude, we ask how we exist in spaces when we are not identified by the "other." When we are really, truly alone, how do we see ourselves? Without the binds of technique, tradition, or expectation, we are free to move the way our bodies know how. At times, SOLA is about loneliness, boredom, ecstasy, abandonment, and self-evolution. Sofi chooses to be alone now, to take the risk of performing in her own body instead of choreographing others, to invite the audience to peek into distinct solitary vignettes and settle into their own aloneness.
Inamorata's creative focus is on the expansion of flamenco through omitting expectations of the form by classical Spanish traditions. In SOLA, we are exploring strong choreographic and musical risk that are influenced by contemporary, Latinx and queer arts. These influences on Sofí's practice have widened her lens to focus on the macro possibilities of flamenco pedagogy regarding costume, floorwork, gender performance, and more. The intention in this is not to create fusion dance, but rather to create movement informed by these practices, that is dance in its own right.
Since its inception in 2018, SOLA has been shared in-progress at New Blue Dance Festival, Toronto Pride, Kaeja's Wind Down Dance, Rainbow Reels' Super Gay Cabaret.