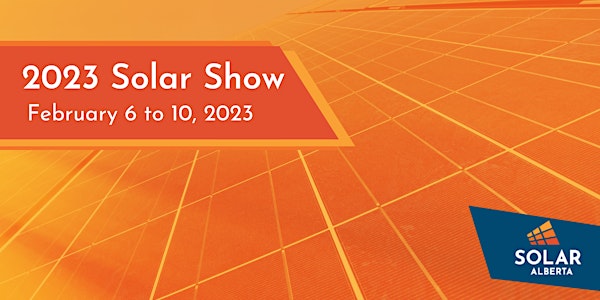 Solar Show 2023
The Solar Show 2023 is made up of 10 sessions about solar energy, related technologies and energy efficiency.
When and where
Date and time
Mon, Feb 6, 2023 6:00 PM - Fri, Feb 10, 2023 8:00 PM PST
About this event
The Solar Show is Solar Alberta's five-day, annual online trade show and conference. The Solar Show includes five free sessions for the general public, three affordable paid sessions on in-depth industry matters, as well as a free online networking event to finish off the week.
We will also have a virtual trade show component for members of the general public to learn more about organizations in the industry.
Click Get Tickets above to select any and all Solar Show sessions from the following list:
Monday, February 6th @ 7PM
Opening Keynote - AESO'S Plans for Net-Zero
Tuesday, February 7th:
Building Equity in the Solar Sector @ 9:30AM
Solar 101 for Home & Business Owners @ 12PM
Wednesday, February 8th:
Embodied Carbon for the Solar Professional @9:30AM
Solar PV Reuse & Recycle @ 12PM
Thursday, February 9th:
Optimized Electrification Appliances & Techniques @ 9:30AM
How to do Community Generation in Alberta @12PM
Friday, February 10th:
Air & Ground Source Heat Pumps @ 9:30AM
Electric Vehicles 101 @ 12PM
Stories from Solar Sector Workers & Networking @ 7PM
About the organizer
The Solar Energy Society of Alberta is the trusted community resource for the widespread understanding and use of solar energy in Alberta.