Description
Here is a map of the venue and parking | Here is the full event program
** UPDATE November 14th **
The Forum is now sold out. If you have purchased a ticket that you will not be using, please email hello@urbanfarmers.ca and let us know so that we can offer it to someone else.
If you would like to be added to the waitlist, please email hello@urbanfarmers.ca.
The Vancouver Urban Farming Society (VUFS) is pleased to host the 7th Annual Vancouver Urban Farming Forum at the Pacific Coliseum on November 18, 2017.
The Forum brings together urban farmers from across the region, policymakers, food security advocates, and urban agriculture enthusiasts. All are welcome!
Your ticket for the day includes a front-stage seat to a diversity of sessions and panel discussions on urban farming related topics, as well as a delicious lunch made with ingredients sourced from urban farmers.
As a convening organization, we are proud to bring together a group of speakers with extensive experience in the food and farming sector who are working in diverse and creative ways toward an increasingly vibrant and resilient local food system.
________________________
KEYNOTE ADDRESS:
We are pleased to welcome Andrea Wilkins y Martinez from Sole Food Farms as our Keynote Speaker!

Andrea has a Bachelor's degree in Ecology and Ethnobotany from the University of California, Riverside and has been farming since 2008. Andrea began her career in agriculture at an urban farm in New York City underneath the Triborough Bridge then moved on to larger-scale organic production farms in California, Virginia, and Louisiana. She is now the Director of Farm Operations at Sole Food Farms in Vancouver.
PLENARY SESSIONS: (**updated October 30th, 2017**)
Morning Panel Discussions (Sessions A & B take place at the same time):
SESSION A
Starting up a CSA Program: Best Practices for Connecting People with Produce
Karly Pinch, Shady Acre Farm
Jenn Cline, Riverside Farm
Kim Tucker, Hastings Creek Farm
Joni Cooke, PLOTS
SESSION B
Standing with Migrant Workers: Organizing Across the Food System
Gerardo Otero, Simon Fraser University
Elena Pennell, Simon Fraser University
Mitch Ward, Radical Action with Migrants in Agriculture
Afternoon Panel Discussions and Workshop (Sessions C & D and E & F take place at the same time):
SESSION C

Building Networks, Resources and Support For Small-Scale Farmers
Emma Holmes, BC Ministry of Agriculture
Marcela Crowe, Young Agrarians
Kiara Jack, Environmental Farm Plan, ARDCorp (BC Agricultural Research & Development Corporation)
Dru Yates, E.S. Cropconsult
Olga Lansdorp, Society Promoting Environmental Conservation
SESSION D

Growing Across the City: Exploring Best Practices for Farming on Multiple Sites

Camil Dumont, Inner City Farms
Elana Evans, City Beet Farm
Gabriel Pliska, Frisch Farms
SESSION E
Connecting Urban Farmers With Opportunities in Schools
Samantha Gambling, Farm to School BC
Lisa Powell, Think&EatGreen@School
Marc Schutzbank, Fresh Roots Urban Farm Society
Megan Herod, City of Vancouver
And other local school food experts
SESSION F
Business Planning Workshop for Farmers
With Marcela Crowe, Farm Business Advisor
Thinking of starting up an urban or small-scale farm? Gain clarity and confidence in developing your business in this workshop with Marcela Crowe!

Get the scoop on business opportunities for new and emerging farmers, explore a variety of farm business models operating within Metro Vancouver (sole proprietorship, partnership, cooperative, social enterprise, etc.), and learn how to use the Business Model Generation Canvas as a tool to plan your farm.
________________________
**NOTE** VUFS strives to deliver quality programming and support to the local urban farming community. To keep our organization sustainable, the Forum ticket and the annual Vancouver Urban Farming Society membership are separate purchases for 2017 (rather than being folded into one, as in previous years). Consider purchasing an annual membership as an add-on to your ticket to help us grow and strengthen the urban farming movement in Vancouver and beyond. We're about to announce some great membership perks to sweeten the deal - stay tuned!
Work-trade options available. Contact hello[at]urbanfarmers.ca if you are interested in learning more about volunteer opportunities at the Forum.

We want to acknowledge that this event is taking place on the unceded ancestral lands of the Musqueam (Musqueam), Səl̓ílwətaʔ (Tsleil-Waututh) and Skxwú7mesh (Squamish) traditional peoples. As farmers, settlers and organizers, it is important for us to recognize the indigenous stewardship that has come before us and the struggles and stories that these lands have composted over many years.
Funding for the Vancouver Urban Farming Forum has been provided by the Governments of Canada and British Columbia through Growing Forward 2, a federal-provincial-territorial initiative.

A big thank you to the Pacific National Exhibition for their event sponsorship.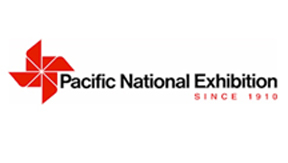 We would like to thank our funders at Vancity for their ongoing support.