D.O.A. play Hardcore 81 in it's entirety, live at the Rickshaw Theatre!
About this event
The Rickshaw and Sudden Death Records present D.O.A.
With special guests
Saturday, November 20th, 2021
The Rickshaw Theatre
19+
Doors: 7:30pm
Vancouver's very own fathers of hardcore punk return to the Rickshaw Theatre to celebrate the 40th anniversary of 'Hardcore 81'! You're in for a real treat, because you betcha they'll be playing songs from that record… in fact they'll be playing the record in entirety, from start to finish! Plus a selection of their greatest hits. Don't miss this one!
D.O.A.
D.O.A. are Vancouver's legendary Punk Kings, who helped spread punk rock counterculture around the world. The band's sound and philosophy has been held together by Canada's Godfather of punk Joey "Shithead" Keithley's songwriting, singing and guitar playing.
Although rooted in punk rock, D.O.A. have managed to create a fair bit of consternation for those who would like to choose musical boxes. It's punk, but it incorporates rock n' roll, reggae, metal, and ska. Whatever the hell their sound is, it's pulled out a "Yeah, that's the shit!" from the likes of Henry Rollins, The Red Hot Chili Peppers, Sonic Youth, Jello Biafra, Bif Naked, John Doe, Randy Bachman, Dave Grohl, Pete Seeger, Yada, Yada, Yada, you get the picture.
The band has travelled the globe almost continuously since they formed in 1978, when they released their first snarling piece of vinyl, the "Disco Sucks" EP. That slab of plastic opened the door to international prominence, riots, rip-off record companies and three generations of fans.
D.O.A. Online:
Supported by FACTOR
This project has been made possible in part by the Government of Canada. Ce projet a été rendu possible en partie grâce au gouvernement du Canada.More info: www.factor.ca
COVID-19
Please ensure you have read the venues COVID-19 policies here.
Refund Policy
No refunds - unless event is cancelled.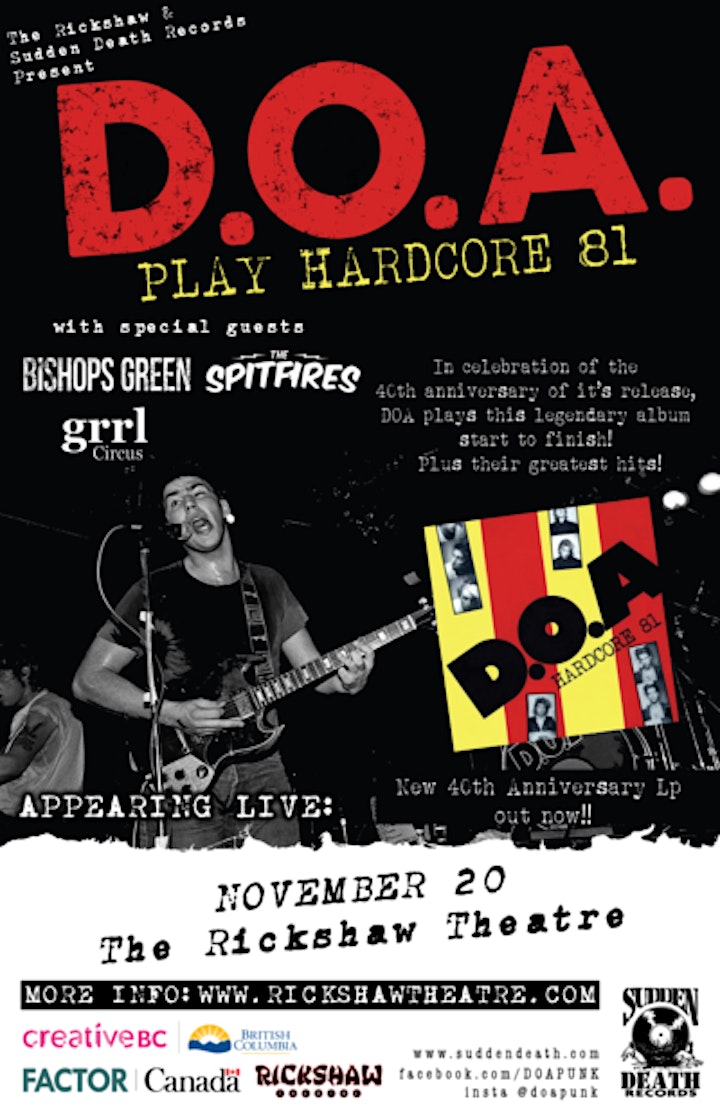 Organizer of SOLD OUT - D.O.A. Play Hardcore 81 Live