Event Information
Refund Policy
Refunds up to 30 days before event
Description
If you're a consultant, small business owner or solo/entrepreneur with a unique set of skills that people value, then you can add an extra revenue stream to your business simply by turning your knowledge into an online course.

And in this LIVE 3HR TRAINING CLASS, I'll show you how to quickly and easily create your next (or first) online course.
--- But Will My Course Idea Work? ---

Maybe your think your business/sector/topic won't make for a good course? Or perhaps you're just not sure. Well read on first, and remember to check out the rock-solid guarantee too. Then send me an email and tell me what your course idea is and I'll let you know (with 100% transparency) if you should pursue it or not. I might even send you some links to prove your idea too! PS. I teach how to evaluate course ideas in the training too ... so you'll always know if it's worth pursuing.
--- Why Create an Online Course ---

Online courses are perfect for LEAD GENERATION (you can give away a free mini course that teaches your perfect prospect something they want) in exchange for their EMAIL.
Or, you can export your expert knowledge and create an online training course that MAKES YOU MONEY ... while you're doing other things. Passive Income rocks!
--- No Big Production Required ---
The online course business is massive - over 100 Billion dollars the last time I checked. Online courses are popular and contrary to popular belief, they DON'T need to take weeks or months to create. You DON'T need flashy video cameras, a green screen studio, lighting or the directorial skills of Steven Spielberg!
Nope, if you have a few basic pieces of technology (and you likely have most of it) then you're about 72 hours away from having your very own online course - published and ready for sale.
--- What's Included? ---
Let's start with the BASICS ...
BREAKFAST is included ... I know, leading with the tummy. But you can't learn on an empty stomach! Coffee, Tea and Juice included also.
PARKING is included (I'll send you a special code that gets you into the lot that's conveniently in front of the Sheridan Conference Centre.)
ACCESS TO THE LIVE TRAINING ... kind of obvious, but hey - I'd better spell it out. You can review the curriculum below to see what we're covering in the class.
BONUS ACCESS TO THE ONLINE TRAINING (Worth USD$99) --- As you might imagine, I also teach this topic online too. And the best part is when you attend the LIVE EVENT, I'll email you a special voucher afterwards to redeem a FREE COPY of the online course with all the resources, videos and more. This means while you can take notes in class if you wish, you don't have to because you'll get it all online as a bonus.
--- What Are You Going To Show Me? --
Here's the class curriculum mentioned above.
• The bare bones equipment you need to make a course quickly and easily. You probably already have it.
• How to evaluate your course potential so you don't waste time making a course that no-one wants. Very important.

• I'll show you my strategy for course creation that keeps things simple and speeds up the production process.
• I'll teach you one trick that makes all the difference to your course - it's a mistake nearly all rookie course creators make!
• I'll show you my favourite places to publish your course online - for free.

• I'll reveal my secret system for structuring course files that saves hours when it comes time to publish online.

• I'll show you optional tools and some cool tech (all very affordable) that saves you even more time and gives your courses that professional (enough) feel.

• I'll teach you the IRONIC SECRET TO GOOD VIDEO.
• I'll even show you how to bulk upload your course (to your publishing platform of choice) that saves you hours of frustration. Believe me ... I learned this the HARD way :(

• And I will also answer all questions and give you direct feedback on your ideas and course considerations in class.
--- What Do I Need To Bring? ---
Since this is a lecture style learning class with interactive Q&A I suggest you bring along something to jot down thoughts and notes.
Remember, you'll get the online class access so you don't need to spend every moment writing! You can focus on the material and on any questions.
Dress code is comfy. Business casual if you wish. Jeans ok too. I want you to be comfortable for 3 hours so dress accordingly. And YES ... there are bathroom breaks too ;-)
Please avoid strong colognes or perfumes as some people are allergic and it causes them great discomfort so no bathing in your favourite scent before attending.
--- FULLY GUARANTEED ---
By the time you're done, you'll feel confident you can turn your expert knowledge into either (1) an email capturing LEAD GENERATOR for your business or (2) a passive MONEY MAKING MACHINE ... or better yet -- BOTH.
BUT ... If at the end of the training course you feel I have not delivered the value of this course then all you need do is come and see me at the end and simply share your feedback with me (it's not contingent on a refund, I just want to learn what in your opinion I could do better) and I'll note your details and refund your money when I get back to my office.
--- In Summary ---
For C$299 +tax (and a half day on Sept 7th) I'll teach you all you need to know to get started quickly and easily making online courses to generate leads for your business, or make money for your business. Along with parking, I'm also including breakfast in the morning (with assorted beverages) and I'm also going to give you a FREE PASS to my USD$99 online edition of this training. Finally, it's all covered by my guarantee so you have nothing to lose. Oh, and I'm even offering refunds before the event if things change for you (see details below.)
--- NEXT STEPS ---
Uh ... book yourself a seat in the class :-)
If you have any questions, email me and I'll be quick to answer them.
Take care.
James Burchill

PS. Remember ...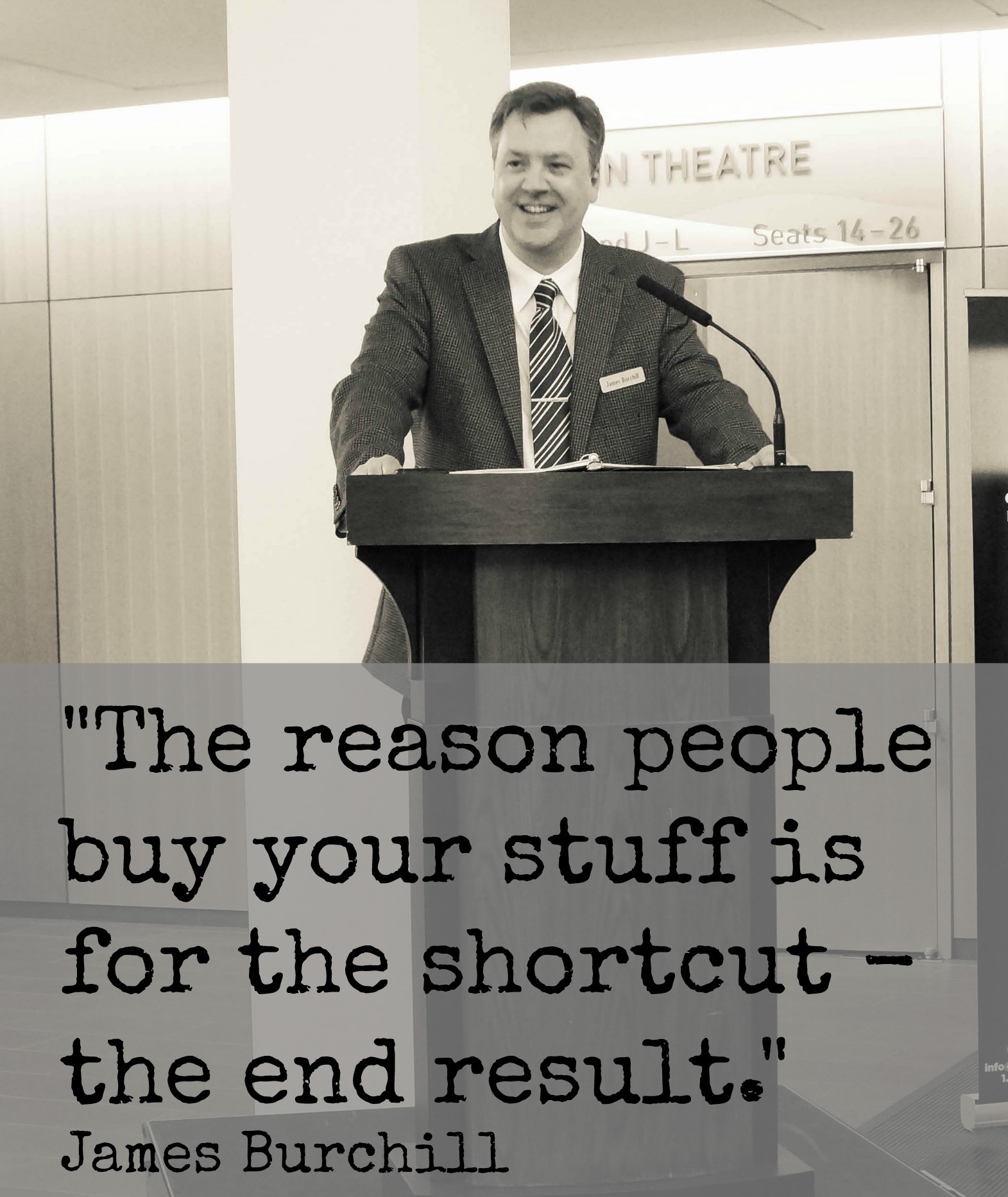 Date and Time
Location
Refund Policy
Refunds up to 30 days before event