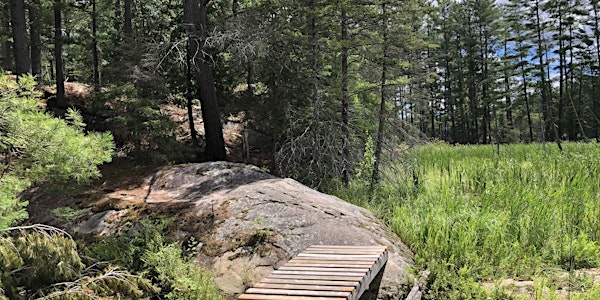 SOLD OUT - Indigenous Rock Carvings Hike in Petroglyphs Park
Let's go and learn about Canada's largest collection of Indigenous rock carvings followed by a hike through Petroglphys Provincial Park!
When and where
Location
34 Asquith Ave 34 Asquith Avenue Toronto, ON M4W 3W7 Canada
About this event
Pick Up and Drop Off Point for Bus Passengers: 34 Asquith Avenue (2 min walk from Yonge/Bloor TTC Sttation)
Start Point of Hike: Petroglyphs Provincial Park
End Point of Hike: Petroglyphs Provincial Park
Length: 7 km
Pace of hike: 4km per hour - Moderate
Difficulty: Intermediate - Must be comfortable walking for 2 hours over hilly terrain
Family-friendly:(suitable for young people 17 and under) Yes
Stroller-friendly: (paved trails accessible for strollers) No
Dogs permitted: No
Open to people who want to drive to the start point to meet the group: Yes - see below for more details
Requiring hiking boots: Recommended but if you don't have them comfortable shoes will do
Requiring crampons/ice cleats: Not needed
Requiring walking poles: Not essential but worth bringing if you have them
Join us for a day trip to the Petroglpyhs Provincial Park where we will see the largest known concentration of Indigenous rock carvings (petroglyphs) in Canada and go on a 7km hike through Petroglyphs Park. Bus transportation will be provided for those travelling from Toronto.
This event is in partnership with Diverse Nature Collective, a BIPOC led organization dedicated to creating space for conservation-minded folks to help empower and mobilize diverse voices.
The Peterborough Petroglyphs rock carvings site, known by the Indigenous peoples of the area as Kinoomaagewaabkong or 'The Teaching Rocks', is believed to have been carved by the Algonkian-speaking people between 900 and 1100 AD. The area is a sacred site. We will experience a guided tour from an Ontario Parks employee and see carvings of turtles, snakes, birds, humans and more. You will also have the opportunity to experience the Learning Place Visitor Centre at the park to read about the traditions of the Ojibway (Nishnaabe) people.
Hikers will be asked to speak quietly while at the Petroglyphs site and photographing/videotaping the rock carvings is not permitted due to the spiritual significance the site holds for Indigenous communities.
We'll enjoy a 7km intermediate-level hike around the Marsh Trail, which winds through dense pine forest and marsh and then climbs – steeply in parts – to uplands. For the hike, expect several hills, boardwalks, dense shurbs, and some deer flies! This hike is not for beginners and is best suited to anyone who can comfortably walk for two hours through hilly terrain. We will visit the beautiful McGinnis Lake with its blue waters before leaving the provincial park.
For those taking the bus: Plan to arrive at the pick up point at 9.15am sharp. We will be leaving promptly at 9.30am and masks are required on the bus. We will be dropped off at the same place we started (34 Asquith Ave) around 6pm pending traffic
For those driving their own cars to the park: Patricia will email you with details of a meeting spot to park just outside the provinicial park and will arrange a carpool into the park. This will help reduce costs for you as it costs $21 per car to enter. She will email you a day or two before the hike with all the details. You should plan to arrive by 11.15am.
Let's Hike T.O. is a hiking community open to everyone with a focus on newcomers, people of colour, and young adults aged 20-40. All are welcome on our walks.
What To Expect
Hike leader: Camara (she/her) and Patricia (she/her)
What's included: Chartered bus from Yonge and Bloor, a washroom stop enroute to Petroglphys Park, a guided tour of the Petroglyphs site, hike led by trained hike leaders, opportunities to stop to take photos of McGinnis Lake
What you should plan to bring with you: Packed lunch, snacks, bug spray, a towel or headband, 2+ litres of water, long pants, hat, sunscreen, mask, comfortable shoes
Registration fee: $30 + $2.84 Eventbrite fees though if you cannot afford it, please contact us at letshiketo@gmail.com to request a Pay What You Can registration based on your circumstance. We will have 4 tickets available for those who are currently unemployed or cannot afford the fee.
Car hikers will be able to register for free but should be prepared to split the cost of park entry with their carpoolers - approx $3-10 each.
COVID-19 safety: Hikers will be expected to keep their masks on during the bus ride. While hiking, we will try to keep socially distant where possible and to wear masks when 2 meters distance is not possible on the trails.
Limited tickets: This bus hike is restricted to 44 registrants. Tickets will be provided on a first-come, first-serve basis and are non-refundable.
Pre-hike email: Registrants will receive additional details by email the day before the hike, such as what to bring on the day, what to wear, etc.
Weather precautions: The hike will take place regardless of rain, wind, or snow so please dress accordingly! We will only cancel or postpone the hike if weather conditions are considered extreme or dangerous, in which case registered hikers will be informed 48 hours in advance.
Questions? Email LetsHikeTO@gmail.com