Description
$20 AT THE DOOR! PLEASE PRINT AND BRING YOUR TICKET!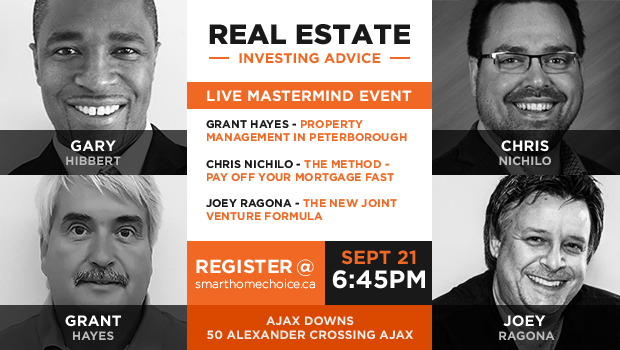 We took a break and we are coming back with an All-Star line-up.

Joey Ragona, my good friend, coach and mentor will be sharing a brand NEW joint venture formula. For those of you who want to grow your Real Estate portfolio but feel stuck.

Chris Nichilo, the founder of Magnetic Mortgages an organization committed to education and creating financial wealth will be teaching us how to pay off our mortgages FASTER than we thought possible!

Grant Hayes, one of our newest partners, is our Property Manager in Peterborough. As we continue to grow our team, it only makes sense to get them in front of you.

It's a jammed packed night and the best way to get things rolling again!

Can't wait!

Joey Ragona – Bio
Serial entrepreneur, author, speaker, Joey Ragona is a #1 bestselling Author, the CEO "Entrepreneur's Secret Weapon" and Founder of Strategic Business Academy, Engaged Investor and creator of the highly acclaimed "Real Estate Joint Venture Presentation Formula". He also leads the High Performance Achievers Inner Circle, a world-class coaching community / mastermind that has already simplified the lives and businesses of hundreds of entrepreneurs and small business owners with his national level connections and business skills.

With more than 30 years' experience as an entrepreneur, Joey built his first company at age 19 and it went world-wide when he was only 23 while simultaneously reaching celebrity status as a radio and club DJ as well as music producer for 22 years. Joey is known as a trusted authority when it comes to "new-world" marketing & implementation. Ragona is an in-demand high performance coach and email / digital marketing consultant with a proven track record and is behind the success of small business owners and entrepreneurs who want structure, systems, personal freedom, life balance and grow their business fast without sacrificing their lives.

Joey spares no expense to personal and business development spending his time training exclusively with some of the world's highest achievers including Brendon Burchard, John Assaraf from "The Secret", Eben Pagan, Mike Koenigs, Ryan Deiss, Frank Kern, Joe Polish, Dean Jackson, Jeff Walker, Rich Schefren, Jim Kwik and Harvey Mackay to pay it forward and share their sets of tools, beliefs, system and strategies with his clients.

Joey lives in Toronto, ON with his wife, son and daughter. He loves Bugs Bunny cartoons, walking in nature and reading.

Chris Nichilo - Bio
Chris Nichilo is a proud Canadian, husband and father. Born in Toronto, the 41 year old speaker, author and personal finance expert currently resides in Oakville, ON where he and wife Joanna are happily raising their 4 year old daughter Kaitlyn. Chris is a passionate volunteer minor hockey coach in the winters, and enjoys playing competitive baseball with friends in the summer. His formal education is in the field of psychology.

In 2007, Chris launched a company known today as Magnetic Mortgages and Investing Inc., a fully licensed mortgage brokerage regulated by the Financial Services Commission of Ontario. Since 2007 the company has brokered well over a quarter of a billion dollars worth of mortgage loans for Canadian families. Today, Magnetic is lead by a sophisticated board of directors that includes the former CFO of fast food giant Burger King, the former President of Country Style Donuts and Cineplex Odeon, and the President of the award winning BottomLine Group Consulting firm who boasts an impressive financial services client list that includes American Express and Scotiabank.

Magnetic is no ordinary mortgage brokerage. In addition to it's brokering activities, the company has made it's true mark in the mortgage arena with a proprietary mortgage payoff acceleration strategy called "The Method" which teaches Canadians how to build equity in their homes up to 5 times faster than normal using the same money. In 2009, a collection of those who had been touched, moved, and inspired by The Method, became curious about what other parts of their personal finance portfolio were under performing, and what solutions were available. Finding a reliable solution for this widespread problem would become the newest mission of MMI. That mission has become the company's most impressive success story in a short period of time. Over the last 5 years, Magnetic has been responsible for successfully helping its clientele invest over $25,000,000 into private mortgages. To date, investors have averaged a fixed annual return on investment of over 8% per year, with zero loss of capital.

Magnetic has quickly evolved into a larger organization committed to education and giving as a means of building quality relationships with Canadian consumers. The brand has become a trusted, dependable resource for powerful personal finance information that can make a positive and lasting impact on every Canadian's two biggest assets, their time and their money.

Grant Hayes – Bio
Grant was born and raised in Peterborough, Ontario and has been a full time real estate agent, broker and real estate investor for many years. He is married, has 1 son and currently resides in Peterborough. In 1984, Grant achieved a college degree in culinary management and began investing in real estate with his first paycheque.
In 2010, with 10 year real estate experience under his belt, Grant achieved Broker of record and opened his own real estate brokerage and named it after our great city, Peterborough Realty Inc., brokerage.

When the opportunity presented itself in 2011 to acquire Guardian Property Management, Grant stepped up to his new challenge and today manages a portfolio consisting of approximately 1,500 condominiums, residential and commercial properties. Managing property in Peterborough, Haliburton, Lindsay, Beaverton, Bowmanville, Omemee, Hastings and looking towards Port Hope and Cobourg next.

When the perfect property came available for office space in 2015, Grant and his wife bought, renovated, rezoned and currently occupy 1591 Hilliard St. Selwyn. When people ask why he bough on the edge of the city limits he replies, "To keep our costs down and our fees in line." Presently he is pursuing his RCM designation through ACMO. (RCM Registered Condominium Manager) (ACMO Association of Condominium Managers of Ontario) Grant has played an integral role in hundreds of real estate transactions in some or all capacities ranging from deal structuring, negotiation, acquisition, renovation, sale and nearly every element in between.

Since acquiring Guardian Property Management in 2011, his knowledge in property management is vast and founded on years of experience accompanying on-going full-service management. Grant has the real world experience, formal education and sense of ethical business practices you are looking for in a property manager who can deliver you results, not excuses 24/7.


RESERVE YOUR SEATS NOW!! $20 @ THE DOOR!

AGENDA
6:45pm - Doors open
6:45 - 7:10pm - Mix and Mingle
7:10 - 7:30pm – Grant Hayes
7:30 – 8:15pm – Chris Nichilo
8:15 – 8:35pm - Mix and Mingle
8:35 - 9:20pm – Joey Ragona
9:20 - 9:30pm - Closing remarks
9:30 - 10:00pm - Mix and Mingle