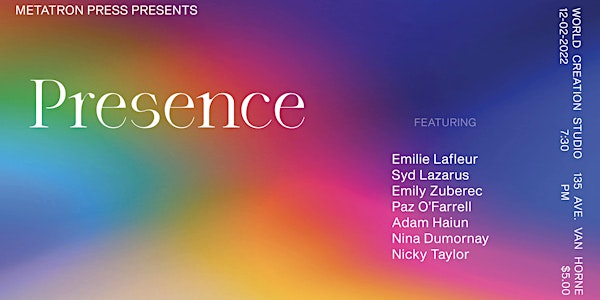 SOLD OUT : Metatron Press Presents: Presence - A Reading
Join us for an evening of presence through readings.
When and where
Location
World Creation Network 135 Avenue Van Horne Studio #204 (second floor) Montréal, QC H2T 2J2 Canada
About this event
✯¸.•´*¨`*•✿ FEATURING ✿•*`¨*`•.¸✯。
✯ Emilie Lafleur
✿ Syd Lazarus
✯ Emily Zuberec
✿ Paz O'Farrell
✯ Adam Haiun
✿ Nina Dumornay
✯ Nicky Taylor
*Hosted by Hannah Karpinski
* Visuals by Apocablyss (Paloma Dawkins)
╱╲❀╱╲ BIOS ╱╲❀╱╲
Emilie Lafleur is a writer living in Montreal.
Syd Lazarus believes in order to best understand them you should know they once sobbed over an episode of Rugrats. Currently, they are attending Concordia University as an MA Candidate for Creative Writing and are acting as Community Manager for Montreal game studio Clever Endeavour. Their written work can be found in print and online publications such as Contemporary Verse 2, Canthius, Shameless Mag, and Lunch Ticket.
Emily Zuberec is a writer based in Tiohti:àke/Montréal. She has previously been published by Peach Mag and Afternoon Projects. She is the managing editor of Commo Magazine.
Paz O'Farrell is a fiction writer from Buenos Aires, Argentina. She is currently pursuing a Master's in Creative Writing at Concordia University, where she works under the poet Sina Queyras on the public project Writing Beyond The Room. Her work has been published in the Scripps Journal and by In Media Res, selected as a finalist for the DISQUIET non-fiction prize and a semi-finalist for the Adroit Prose Prize. She is the recipient of the Hollfelder Award. She likes to write about things people don't like to talk about.
Adam Haiun is a writer and poet living in Tiohtià:ke/Montréal. In 2021 he was a finalist for the Malahat Review's Open Season Award for fiction, and for the Far Horizons Contest for poetry in 2020. His work can be found in Filling Station, Bad Nudes, The Headlight Anthology, and The Void. He's working on a book about computers.
Nina Dumornay (they/she) is a second-year Creative Writing student and a staff writer for Pixie Literary Magazine. Their obsessive reading tastes range from fantasy to memoir and their writing can be described as lyrical prose. With both their free-form poetry and imagery-heavy short stories, Nina endeavours to give emotions a sensory quality and attribute specificity to the intangible. Their writing centres intersectional identities and slippery feelings. In their free time, you can find them crocheting while watching a mid-2000 tv show or adding to one of five never-ending book lists.
Nicky Taylor is a poet, journalist and Anne Carson stan based in Tiohtià:ke/Montreal. They're currently grading philosophy papers for Trent University, reporting for the Eastern Door, and documenting things at the Cyber Love Hotel. Their debut chapbook, Foul Mouth, was published by bird, buried press in 2021. In February, they were named Student Journalist of the Year by the Canadian University Press. These days, they're working on a collection of poems about god, time, death, apocalypse, teeth, flowers, insects, holes, but mostly, eros.
╱╲❀╱╲MORE INFO╱╲❀╱╲
❀ Masking is highly encouraged
❀ Cash bar - homemade mulled wine
❀ Accessibility: World Creation Network is located on the second floor of a building. Unfortunately there is no elevator.
Please reach out at least 24 hours before the event if we can help accommodate any accessibility needs or answer any questions you may have: info@metatron-press.com
Please email us at least 24 hours before the event to reserve seating: info@metatron-press.com
❀ This event takes place on the lands of the Kanien'kehá:ka, the easternmost member of the Haudenosaunee Confederacy, also referred to as the Six Nations Confederacy. We recognize this land as a site of meeting and exchange amongst many First Nations including the Kanien'kehá:ka of the Haudenosaunee Confederacy, Huron/Wendat, Abenaki, and Anishinaabeg. World Creation Network is located on land commonly referred to as Montréal, but its original name is Tiohtià:ke.