16 Day Healing Circle from New Moon, Spring Equinox and to Full Moon, with multiple online Circles to meet and do group healing work.
About this Event
***Registration ends on March 7th, 2021.***
***Limited number of participants, so I can dedicate my time to your needs.***
*** In gratitude and to honor those dedicated to Spirit and their inner work, I'm offering a limited number of Early Bird Tickets.***
***For those outside of my time zone, an audio recording of the healing meditation is sent the next day, so you can do the journey on your own time.***
ACCESSING THE ONLINE EVENT: This multi-day healing Circle requires you to meet online with me and the group several times. A link to the live online Circles will be sent to you an hour before each event starts. Circles are live from Vancouver, Canada (PST). If you are participating from outside of Vancouver, please double-check your time zone to ensure you're logging in at the right time. Add my email to your contact list so the link goes directly to your inbox, and avoids the spam folder: mari@trilliumhealingpath.com
In summary, this 16 day healing journey includes:
your personal voice recorded reading and picture of tarot cards
4 online Circles
2 phone calls (15 mins each) to connect privately with me for guidance
one 30 mins mini healing session
daily distance healing sent to you during our time together
several emails sent throughout the 16 days with more guidance from Spirit to the group
Because multi-day healing circles heal and shift a lot of things in people, I'm offering it again. Spirit designed this Circle so that you can dig deeper and release any negative belief systems holding you back, get downloads of positive energy and belief systems to align yourself and steer your path clearly through 2021. This Circle are for those willing and ready to make changes, and release and heal things to bring in major shifts into their lives.
Starting on March 13th(New Moon) to March 28th (Full Moon), there will be daily distance healing sent to you. That would be over two weeks straight of distance healing to begin shifting energy in you. I will also set up a flower altar to begin building the healing energy. A candle will be lit every day to "fire" up the Circle's energy and to send you some daily healing. (Scroll down to the bottom of this page for an example of the healing altar that would be set up for this Circle.) There will also be a series of emails sent out with pictures of tarot cards to give group guidance on this multi-day healing journey.
My Spirit Guide and other spirit helpers have this in plan for the Circle:
March 13th (New Moon) - I will email a personal voice recorded reading from Spirit and pictures of tarot cards that had come out specifically for you . We will also meet as a group for the first time online (1.5 hrs). We will do some grounding work, clearing of negative and stagnant blocks of energies, and intention setting.
March 20th (Spring Equinox) - Second online Circle (1 hr) where we all meet and do group healing work, releasing negative beliefs and dowloading positive ones.
March 23rd - Third online Circle (1 hr) where we all meet and do group healing work. The intention is to dig deeper, heal and release things that no longer serves your highest good with each online group meeting.
March 28th (Full Moon) - Final, 1.5 hrs online Circle to further release any blocks, and do manifestation work to invite in opportunities, people, and life experiences for your soul's best and highest good, to help with your journey on Earth.
*All Circles happen in the evening (7PM PST).*
In between the Circles, I have 15 mins support calls with all participants. These 15 mins calls also help in setting the intentions and the healing to happen the next time we meet online.
After the Circles
At the end of all the online Circles, I'm guided to pull out some tarot cards with guidance on how to integrate from all the healing. A picture of the cards will be sent to all participants, including other supportive information Spirit wants to send you in regards to self-care to integrate from all the healing.
Circles offered by me and my Spirit Guides are excellent for those who are:
interested in receiving these group distance healing sessions to maintain their wellness and feel uplifted after connecting with Spirit as part of a self-care routine.
needing to stay connected to high vibrational energy and Spirit, and also be in the company of like-minded souls.
new to me and my Spirit Team, and interested in experiencing our Circles and receive healing.
existing clients who would find these Circles as good "spiritual boosters" between their sessions. I sometimes get booked months ahead of time, and clients have found these Circles beneficial in maintaining and nurturing their wellness.
I microdose on plant medicines as a way to keep my connection to Spirit, but also to be a clean and wide channel for healing energy to come through. Spirit has Peyote scheduled to be the plant medicine leading this specific healing journey. Peyote is wonderful for healing the heart and revealing things it wants to tell us. It is not required for you to be on Peyote.
FAQs
I didn't get my link to the online Circle?
Check to make sure you've done these:
Check your Spam folder. I send the link to the Circle one hour before the event starts.
Before the event starts, add my email mari@trilliumhealingpath.com to your contact list so the online link avoids the Spam folder and goes directly to your Inbox. I stop checking my email 30 mins before the Circle begins, so I'll leave it up to you to have everything successfully set up.
Did you enter your email address correctly? Sometimes in the moment of excitement and in the rush to get one of the limited tickets, addresses can be entered wrong. I use the email given to me upon registration, so please double check :-)
Do I have to attend all the online Circles?
You do not have to attend all the online Circles. The healing meditations will be audio recorded and sent to everyone. Although attending online is encouraged: you begin to connect with the other participants and shared commonalities in your traumas/healing/insights will make you feel more connected to humanity and less lonely on your healing journey.
Can I share the ticket with someone?
Your registration/ticket is for one person. I need to keep the circle small, as I do my best work in small group settings.
Is my registration/ticket transferrable?
Your registration/ticket is not transferrable to another person or event.
Is there a refund if I can no longer attend the workshop?
There is no refund once you have paid and registered.
What does the healing altar look like?
See picture below, of an example of the healing altar that would be set up for this specific circle. Your names will be written on paper and placed below the candle, to send distance healing to you everyday.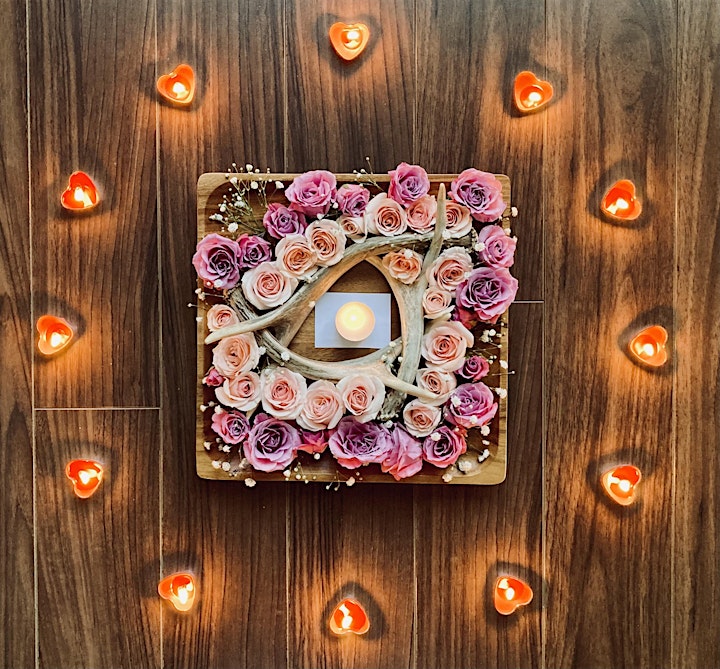 Date and Time
Location
Refund Policy